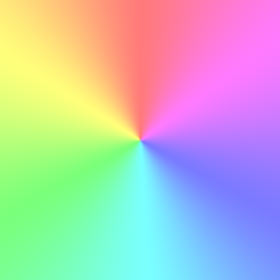 What is the RAL colour system for double glazing?
The RAL colour system is a standard European colour matching chart used by a diverse group of designers, architects and engineers. RAL paints can be used to colour almost any surface and are particularly popular for painting metals and plastics. The RAL system is regularly referred to in the construction industry and is used when choosing colours for automobiles, aircraft and other transportation vehicles.
In the glazing industry, RAL colours have always been popular for powder coating aluminium windows. In recent years their popularity has spread to uPVC windows and doors and can also be used for painting timber windows.
Browse our installation gallery for inspiration
If you're planning a window replacement project at your home and you think a change of colour is due, have a look at some of our coloured window gallery installations to gain inspiration for your own new windows. From sleek black, to bright red and subdued duckegg blue, we've installed replacement windows in nearly every RAL colour.
Anthracite Grey is the UK's most popular window colour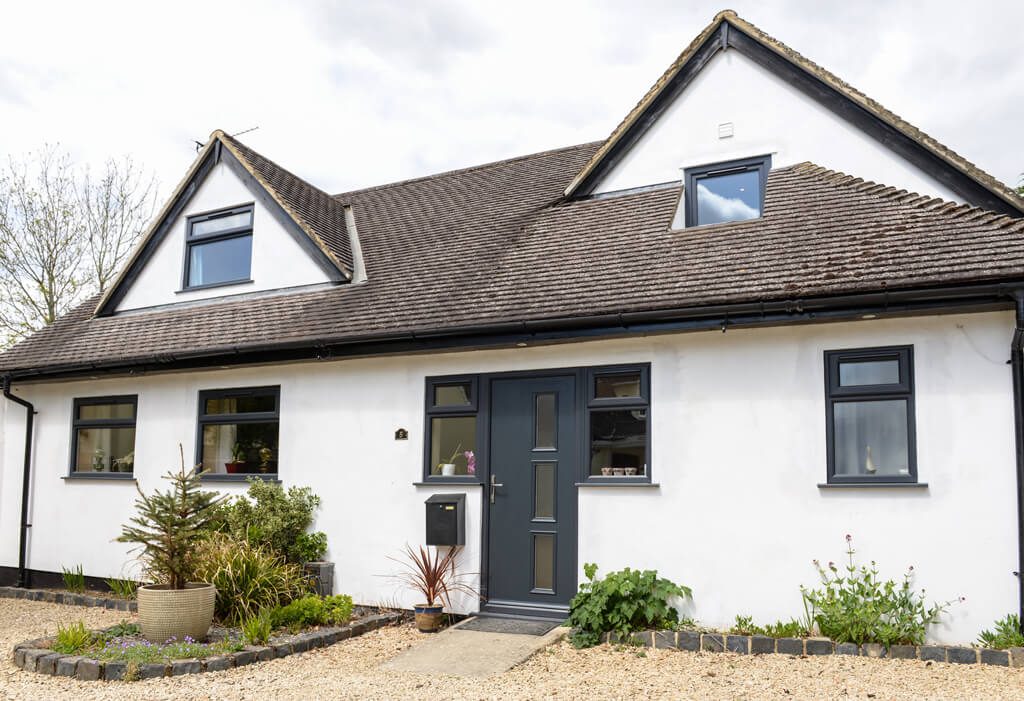 Anthracite Grey is now the most requested colour for powder coating windows. Originally the colour was used predominantly for commercial installations on large scale curtain walling, shopping centre facades and retail parks. With the increase in aluminium windows for residential applications, Anthracite Grey soon became popular with homeowners looking for an attractive alternative to white uPVC windows.
Anthracite Grey is an extremely versatile colour. It combines well with almost any building material, looking great on buildings with painted render, exposed brickwork, stone or even timber cladding. It is an understated colour and, although often chosen for contemporary property installations, it is equally suited to more traditional architectural styles.
The benefits of choosing Anthracite Grey for your new windows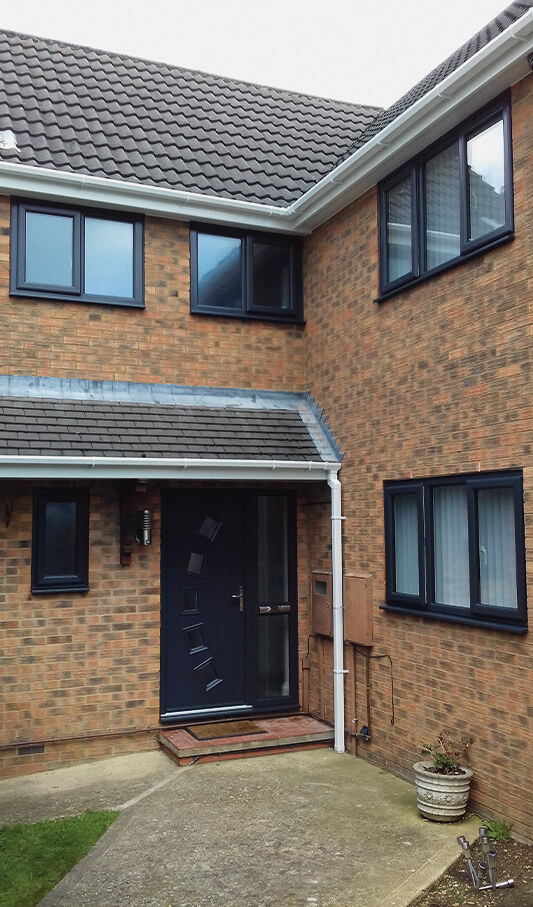 When you choose Anthracite Grey for your new windows, you may do this for purely aesthetic reasons because you like the colour. You will, however, enjoy some other, perhaps unexpected benefits from choosing Anthracite Grey for your new windows. These include:
Unobtrusive charm – Anthracite Grey is a subtle colour which will fit in with the surrounding installation. It will not look too bright and diminish the impact of a new conservatory installation for example.
Low maintenance – Although it's a good idea to keep your windows clean, with Anthracite Grey, any dirt will be hidden by this shade of grey, so cleaning will only be occasionally required.
Increased property value – Most home improvements increase the value of a property. With Anthracite Grey, however, because of its popularity, it's an excellent choice when you want to attract any potential homebuyers.
Other popular new window colours
If Anthracite Grey is not your window colour choice, there are lots of other colours to choose from. Some other popular colours are Black, White, Cream, Chartwell Green or even a realistic woodgrain effect.
Contact us today for expert advice on the best replacement window colour to suit your home.
Why choose wood effect windows for your home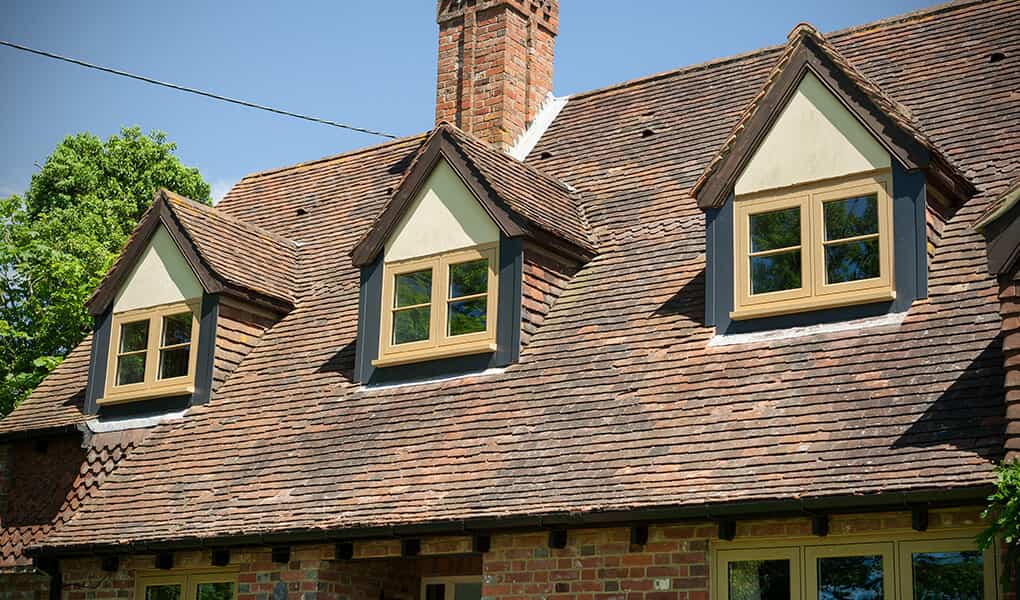 Wood effect windows can be found on properties across the UK. Their popularity is testament to the realistic and tasteful look they provide. Wood effect windows will go with any style of property and immediately transform up a faded exterior. Whether you live in a modern or more traditional home, wood effect windows are an excellent choice. With wood effect windows you get:
Classic timber appearance – Timber effect windows are now so realistic that it is almost impossible to tell the difference between them and natural timber. They are attractive and can be specified in a range of colours including Rosewood and Golden Oak.
Low maintenance finish – One of the main benefits of timber effect over real wood is the low maintenance levels. Gone are the days of sanding down and re-painting. With only the occasional wipe down with warm soapy water, they'll stay looking and performing like new for many years.
Conservation area compliance – At T & K Home Improvements, our wood effect windows have been installed in properties located in conservation areas. Although it's always necessary to check first with your local authority, it's likely that you will be granted approval.
Classic Chartwell Green replacement windows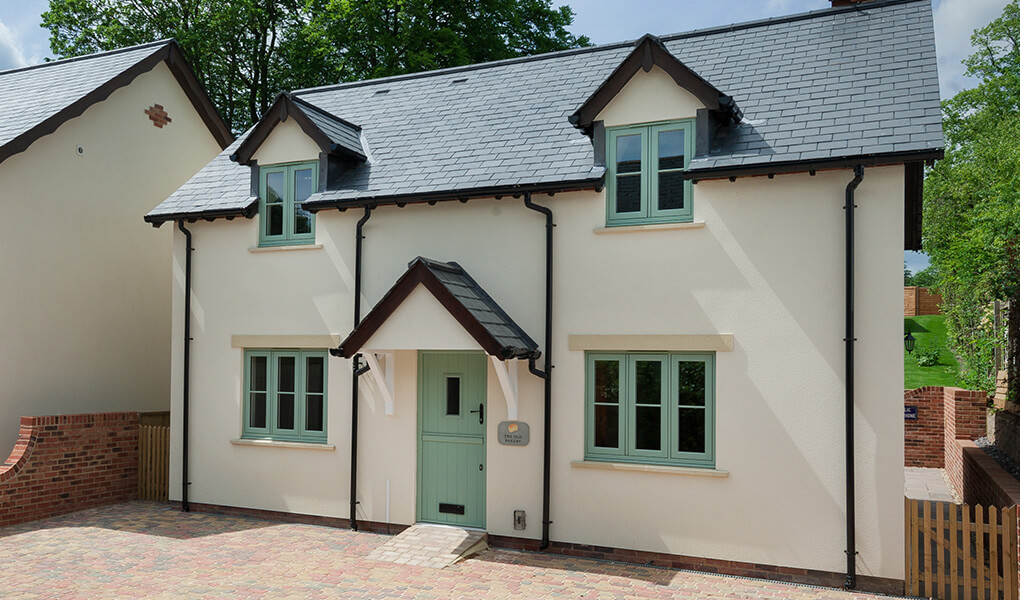 Chartwell Green continues to increase in popularity with UK homeowners. It is by far the most popular pastel shade and is now the colour of choice for people wanted to add some rural charm to their home. Chartwell Green's understated and tasteful tone makes it perfect for a wide range of applications including cottages, townhouses and contemporary new-builds. When you choose Chartwell Green for your windows, you get:
Attractive pastel finish – Pastel colours are naturally calming while green is said to improve relaxation. Creating a pastel green shade is therefore the perfect way to enhance the ambience of your home.
A bright but low-key colour – Chartwell Green is light and bright but its pastel tone means that it is also understated. When you want something a bit different which is not too bold and showy, Chartwell Green is an excellent choice.
Design versatility – Chartwell Green's light tone means that it will complement any property facade. Whether your home's exterior is finished with white painted render or traditional red brick, Chartwell Green windows will look great.
Double glazed window colours customised for your home
If you'd like to speak to someone about the best colour choice for your new windows, call 0800 622 716. Alternatively, to enquire online, send us a message using our online contact form and we'll get back to you ASAP.
We've also created a short video on popular window and doors colours for further advice.
Related RAL double glazing blogs: