High Quality Sliding Doors
At T&K, we're proud to offer our Northampton customers the choice of three quality sliding doors. We offer uPVC, aluminium and timber designs, each of which offers the various benefits of that material. This includes a low maintenance design, good looks, increased security and weatherproofing, and excellent views.
Unlike standard back uPVC doors, our sliding doors are the perfect option for Northampton properties where space is limited. The slim frame of these doors incorporates large panes of glazing, letting you flood your Northamptonshire home with light.
For Northampton homeowners looking to replace ageing back doors, the uPVC, aluminium or timber sliding doors we offer are the perfect upgrade. These doors are created to require minimal upkeep, offering year-after-year of quality use. The door frame will never bow, warp, twist, rot or crack, needing only an occasional wipe down with a damp cloth to retain the good-as-new look. Even in the worse Northamptonshire weather, our customers can have complete peace of mind their property is protected against the weather.
Lower Energy Bills
By using the best uPVC, aluminium and timber profiles for our sliding doors, you'll be able to do your bit for the environment. Timber as a material is renowned for its thermal performance, with this door able to achieve U-values as low as 0.9 W/m2K. The multi-chambered uPVC frame boasts U-values of 1.2 W/mK, and the thermally broken aluminium patio door can achieve U-values of 1.7 W/m2K. The frame of these sliding patio doors works alongside the panes of glazing to trap pockets of warm air within your Northamptonshire property throughout the year.
Even in the harshest of Northamptonshire winters, our sliding doors will trap natural warmth within your property. This means the energy bills of your Northampton home will reduce, freeing up money that can be spent on the things you want. With the general energy consumption of your property lessening, the carbon footprint will shrink.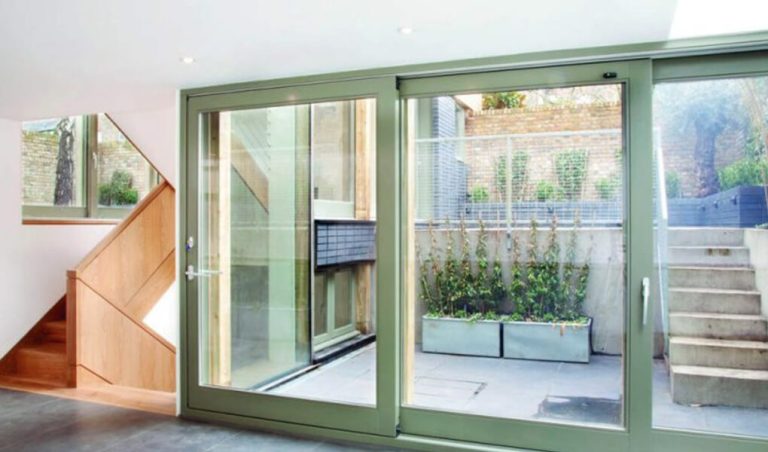 Securing Your Home
You can have full peace of mind your Northampton property is secure with our sliding doors. The uPVC, aluminium and timber patio doors are fitted with the finest multi-point locking as standard, with advanced locking cylinders and anti-lift technology available on some of the doors. This will create a high level of security across the frame of our sliding patio doors, removing any potential weak points which could have been exploited.
The uPVC, aluminium and wood frame of our sliding doors offer a high level of strength and durability. When the frame is combined with the panes of glazing and the locks, the highest level of security is created. This offers you peace of mind that you and your Northampton family are safe and secure.
For additional security, our sliding doors can be fitted with toughened glass. Burglar resistant beads on some of our patio doors stop the glazing from being removed from the outside of the property. Customers that choose T&K Home Improvements can have full peace of mind they've selected the best products for their Northampton home.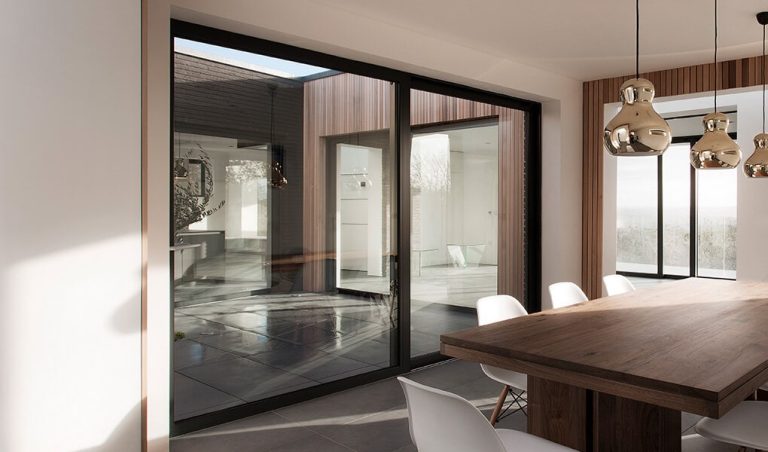 Suited to Your Property
As with any double glazing product, you must get a product that matches the style of your Northampton home. Our customers are put in complete control over getting the best option with our sliding doors. As well as the choice of uPVC, aluminium or timber, our patio doors can be customised to match the existing windows and doors of your home.
One of the customisable features of our sliding doors is colour. Both the aluminium and timber door can be decorated in a range of colour and woodgrain foils. For traditional Northamptonshire homes, a woodgrain foil for the patio door maintains the character of the property. Our timber patio doors can be decorated in contemporary, traditional and bespoke colours, with three choices of wood. You can also choose between single, dual or mixed colour application.
For our uPVC Sliding doors, you can choose from standard, premium and special colours. The aluminium patio door comes in white, grey, black, brown and any RAL colour. This means you can choose something subtle for your Northampton home or choose something that stands out. Other customisable features include optional low thresholds and handles.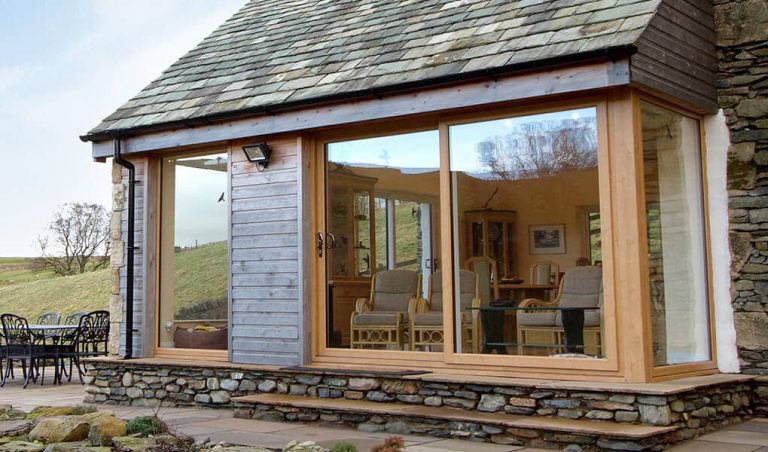 Sliding Door Prices Northampton
If you think our sliding doors would make the perfect addition to your home, contact our team today.
You can speak directly to a member of the T&K team by calling 0800622716 or fill out our online contact form and a team member will be back in touch. Here, we'll be happy to discuss our sliding doors and answer any questions you may have regarding your project.
Or why not start a free online quote? Just enter a few details, and our innovative quoting engine will produce a no-obligation tailored quote in seconds.
We look forward to hearing from you.