With around 69% of English homes featuring windows that are all or mainly double glazed with uPVC frames, it's clear that the last decade's advancements in uPVC manufacturing and colour bond technologies have truly paid off. Able to accommodate innovative triple glazing and life-like woodgrain effects, the sky's the limit with the multifaceted uPVC windows and doors of today.
Dedicated to installing the very best home improvement products around, we're thrilled to announce 12 new colours that have been added to our adaptable uPVC window and door range. Delivering greater choice for both modern and traditionally styled homes across Wellingborough and beyond, we're certain our new uPVC colour palette will meet and exceed all of your expectations.
New colours added to our Premium Stock Collection: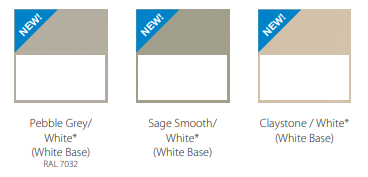 Pebble Grey (RAL 7032)
Sage Smooth
Claystone
(These are also included in our 'Specials' colour range, outlined below)
Specials: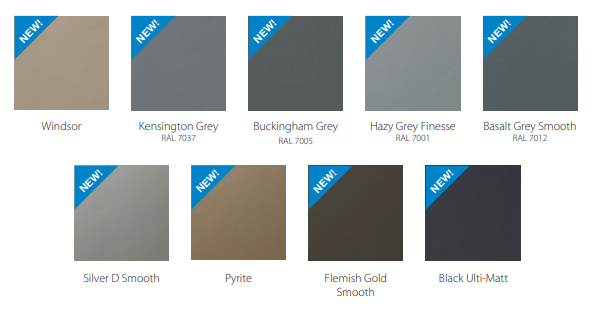 Windsor
Kensington Grey (RAL 7037)
Buckingham Grey (RAl 7005)
Hazy Grey Finesse (RAL 7001)
Basalt Grey Smooth (RAL 7012)
Silver D Smooth
Pyrite
Flemish Gold Smooth
Black Ulti-Matt
(Made to order, available both sides and on white, white base only unless specified differently)
Our existing UPVC colour palette includes:
Standard Colour Range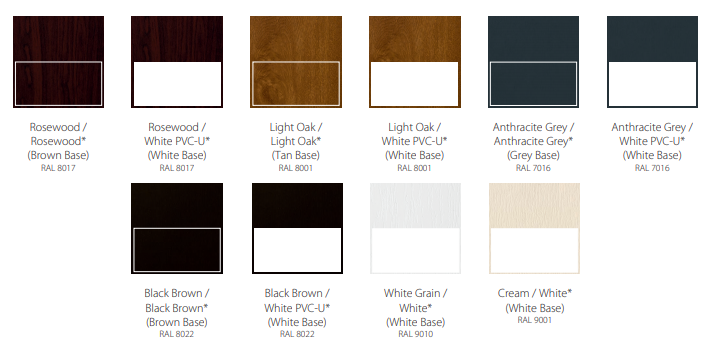 Rosewood
Rosewood/White (White Base)
Light Oak
Light Oak/White (White Base)
Anthracite Grey
Anthracite Grey/White (White Base)
Black Brown
Black Brown/White (White Base)
White Grain/White (White Base)
Cream/White (White Base)
Premium Stock Collection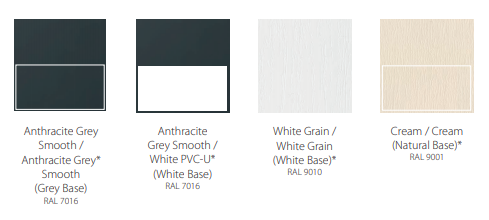 Anthracite Grey Smooth (RAL 7016)
Anthracite Grey Smooth/White (White Base)
White Grain (RAL 9010)
Cream (RAL 9001)
Specials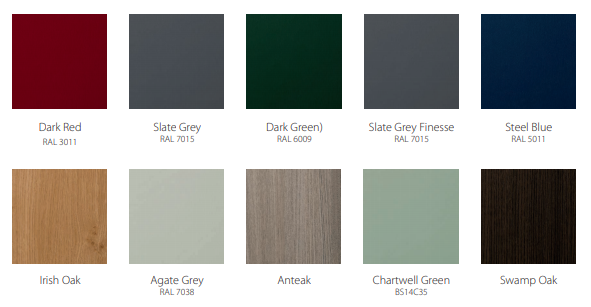 Dark Red (RAL 3011)
Slate Grey (RAL 7015)
Dark Green (RAL 6009)
Slate Grey Finesse (RAL 7015)
Steel Blue (RAL 5011)
Irish Oak
Agate Grey (RAL 7038)
Anteak
Chartwell Green (BS14C35)
Swamp Oak
* Please note: RAL colour codes are the nearest match only and, therefore, not exact matches with the foil.
Impressive colour options for high quality uPVC windows and doors
Our uPVC windows are available in the following styles:
Our uPVC door styles on offer:
If you like the sound of cost-effective new windows and doors that never compromise on style or performance, visit our showroom, give us a call on 0800 622 716 or contact us online.
Related posts:
The most popular RAL colours for windows
How to choose the right front door colour for your home
Why now is the time to improve your home with new windows & doors on finance