Wood has been the favourite material for doors for thousands of years due to the abundance of the resource. Since then, the timber door remains a popular choice after being developed and refined into a streamlined, high-quality and reliable product.
T&K is proud to be adapting to the ever-evolving taste of the modern consumer, so we've increased our plethora of customisable options to make sure you find the perfect door to suit your home and style. We've curated a collection of modern timber front doors to inspire your next home improvement project.
Traffic Red modern wood front door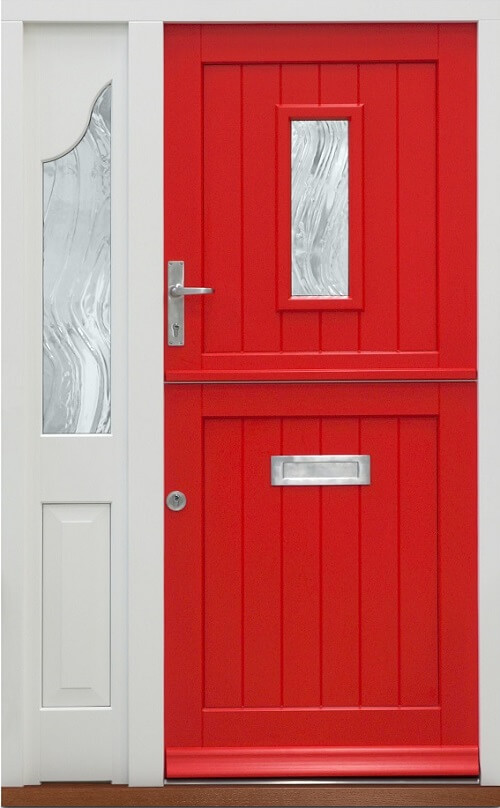 Grab the attention of guests and passers-by with this truly striking colour. Traffic Red perfectly suits the classic stable door style, creating a unique look. The use of a frosted glass panel in the door and in the sidelight really give this door extra wow factor too. We have a range of door glazing options, including decorative glass, so you can add your personal touch to any modern wood door.
With our dual colour option, you can also have different colours on either side of your door to match your home inside and out.
Claret Violet timber door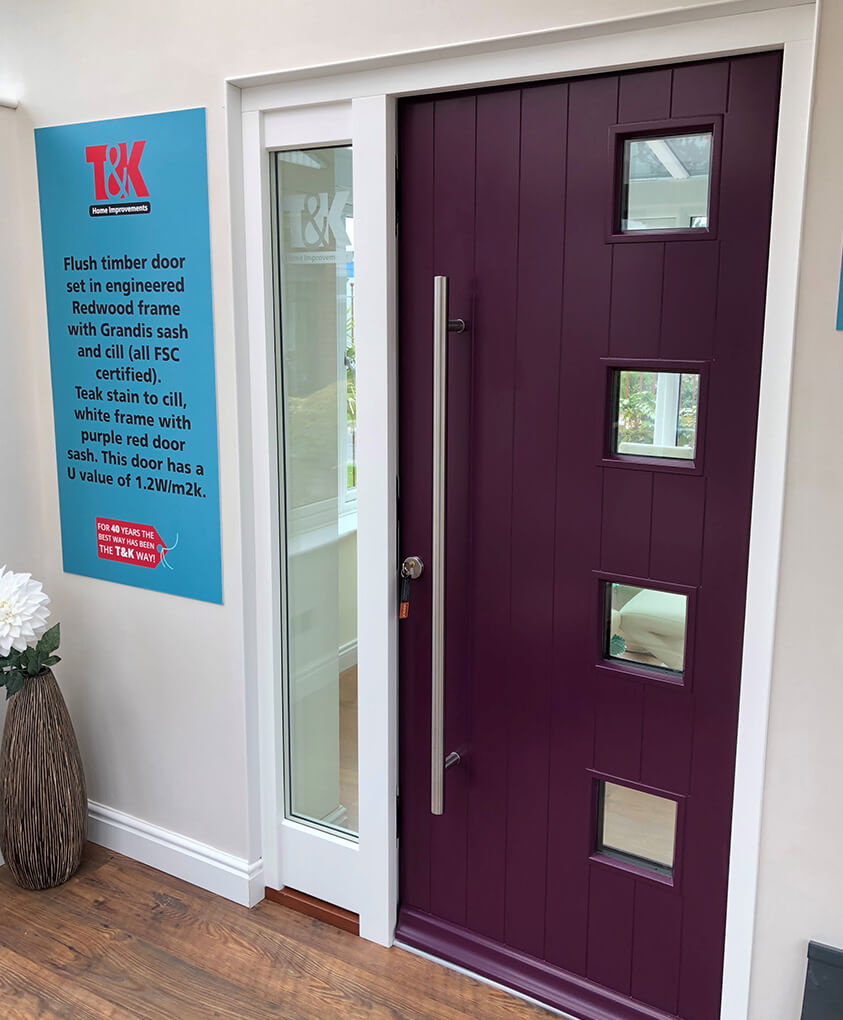 This modern style door and elegant colour makes an exceptional impression and is a beautiful addition to any home. The long bar door handle and small glazing panels complement the modern aesthetic wonderfully too. Handles and alternative door furniture are another way you can personalise your door, so you should consider the available options here too.
See this stunning timber door for yourself, and more from our wide range of home improvement products, by visiting our Wellingborough showroom.
Stained glass timber door

Introduce a touch of colour into your home's entrance by choosing stained glass. The classic aesthetic of stained glass is a great alternative to a fully coloured door and it will instantly draw attention to your front door for all the right reasons.
Consider combining the two options and have a coloured door and stained glass to really add the wow-factor to your wooden front door.
Bespoke timber doors
At T&K, we offer a bespoke design service for our timber doors, giving you complete freedom of choice. As part of this service, you can select from:
Our doors also come fitted with a multiple-point locking system to keep your home safe. Timber doors achieve an impressive level of thermal efficiency too. Therefore, they retain the heat in your home effectively, saving you money on your energy bills.
Where can I get timber doors in Oxfordshire?
T&K offer a massive range of timber doors available in an array of beautiful styles including entrance, stable, French and bifold. Give us a call on 0800622716 or contact us online for more information.
Looking for alternative front door ideas? Check out these 8 brilliant front door ideas (including buying tips)!