Looking for trendy front doors? You've come to the right place; here at T&K Home Improvements, we've compiled this brilliant list of modern front door designs to help anyone searching for a 'modern front door'.
We've also created a video, which you can view here.
1. Contemporary front doors with sidelights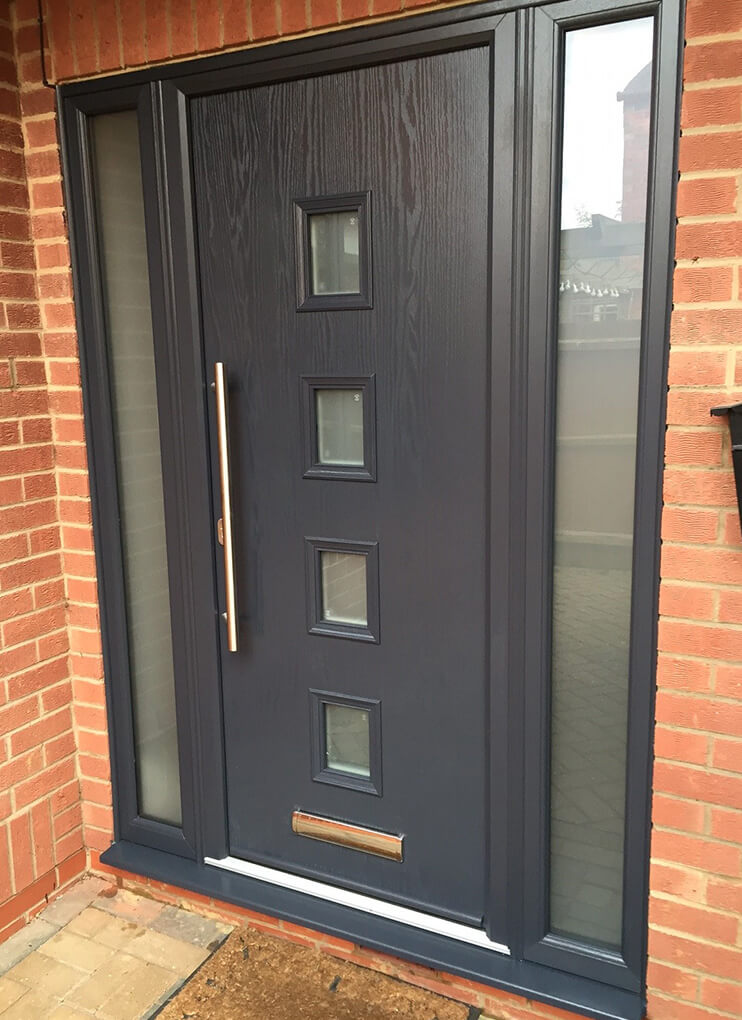 Modern front doors with side panels on the side are an excellent way to stay on-trend. In the case of the grey front door above, the sidelights have also been fitted with frosted glass, meaning that you don't have to sacrifice the privacy of your own home to have them either.
For a view at the other types of glass that can be used for side panels, check out our decorative glass options page.
2. Contemporary composite front doors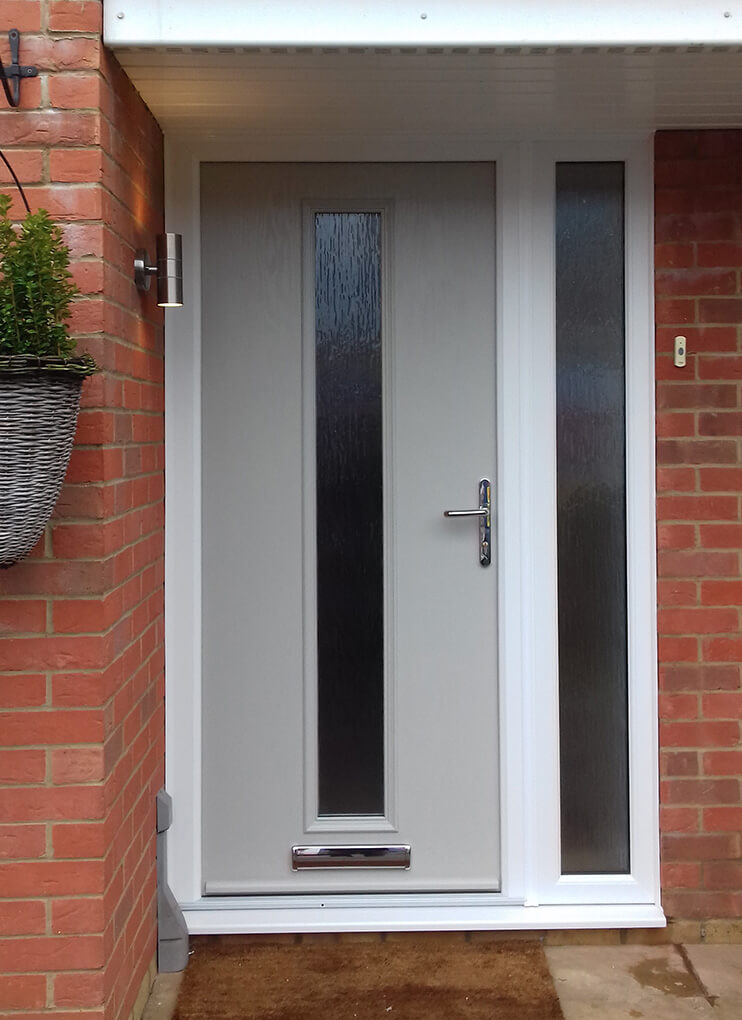 Composite doors offer advanced performance levels in terms of security and thermal efficiency, and they're available in a wide range of contemporary designs. The cream composite door pictured above is an excellent example of one. However, they are available in a huge variety of traditional designs too.
3. Oak front doors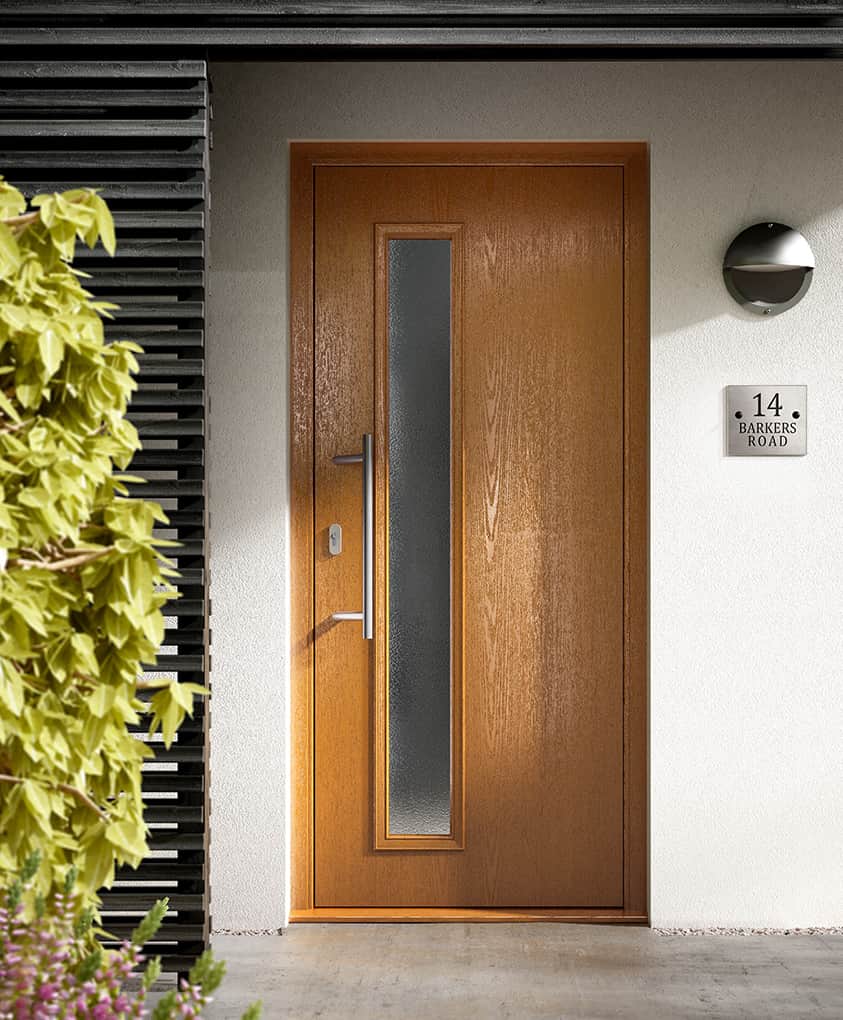 For this particular door, the Oak colour adds a classic twist to the door's contemporary design. If you're interested in the above or something similar, our composite doors come in Irish Oak and English Oak finishes so there is some flexibility with this particular aesthetic. Fancy a different finish instead? Check out our door colour options for a wide range of alternatives.
Speak to an expert today who can custom-design your new front door!
4. Double front doors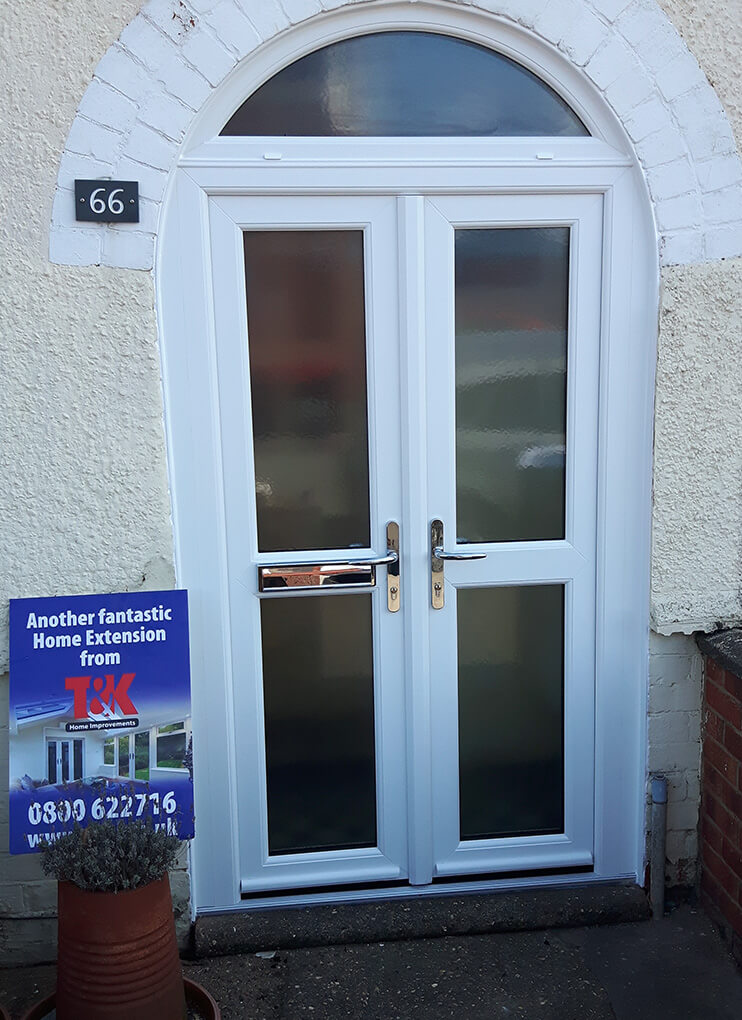 If you've got the space at the front of your home, why not opt for a set of double front doors instead of a single door? You can opt for a classic French door design like the example above or one with considerably less glazing.
5. Red front door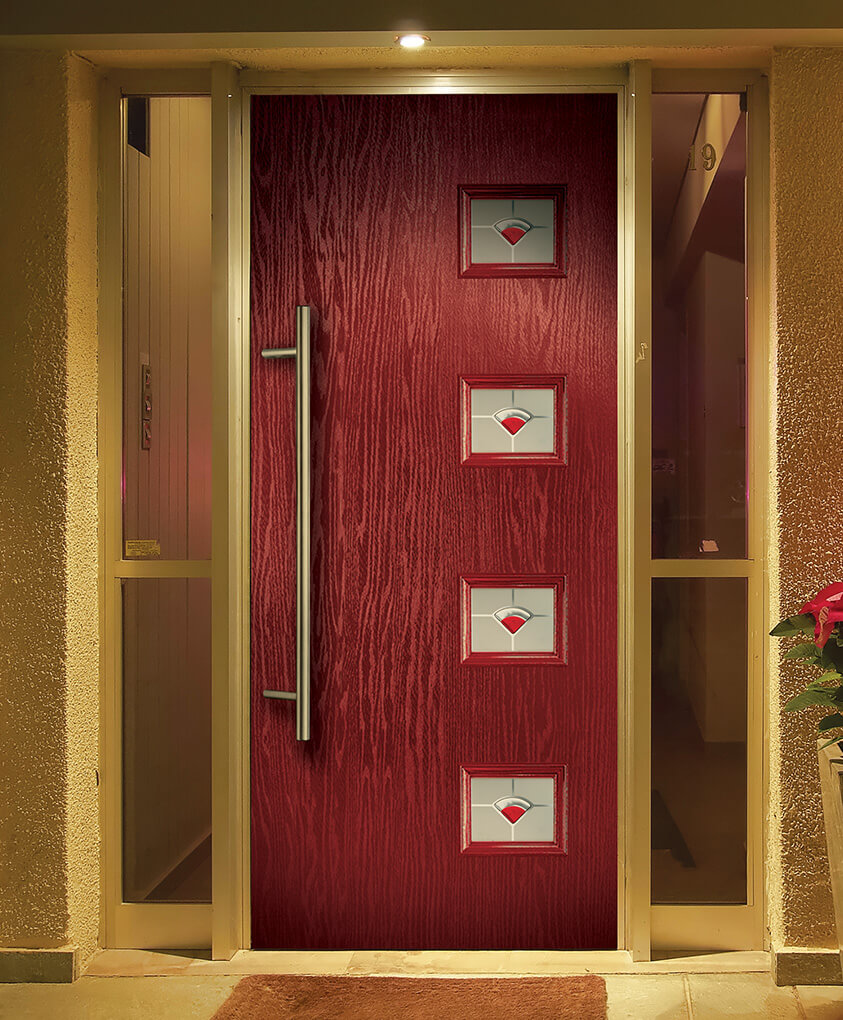 Red is the perfect shade for making a front door stand out. Bright, bold and vibrant, a red composite front door looks especially beautiful when complemented with decorative glass panels like the example above. Finishing off the door is a stunning, modern bar handle, which is a great example of contemporary door furniture.
6. Modern grey front door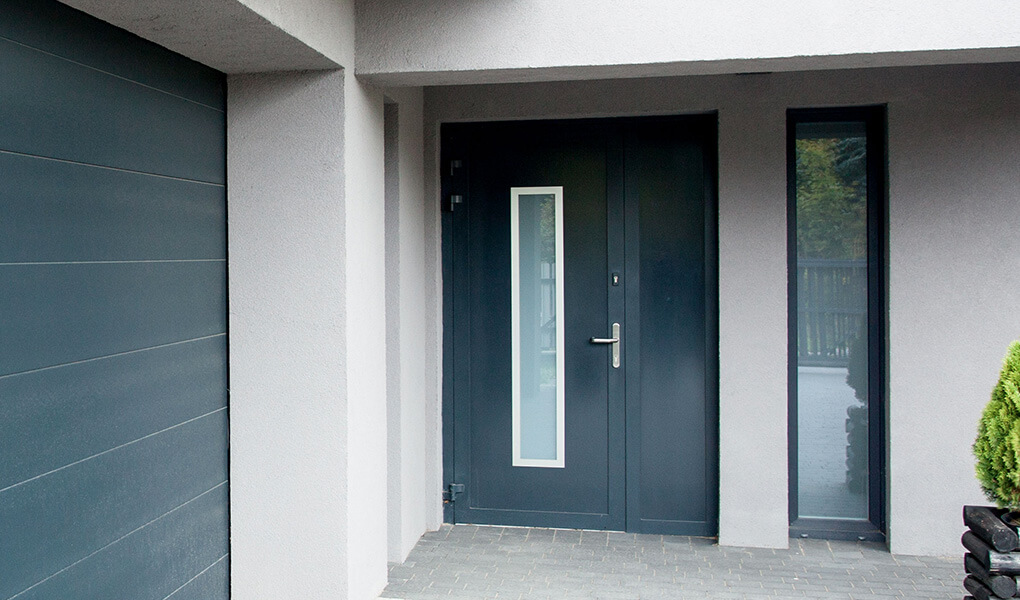 Grey truly is the perfect on-trend colour. When applied to any front door, grey will instantly make it appear sleek, stylish and contemporary.
7. Modern black front door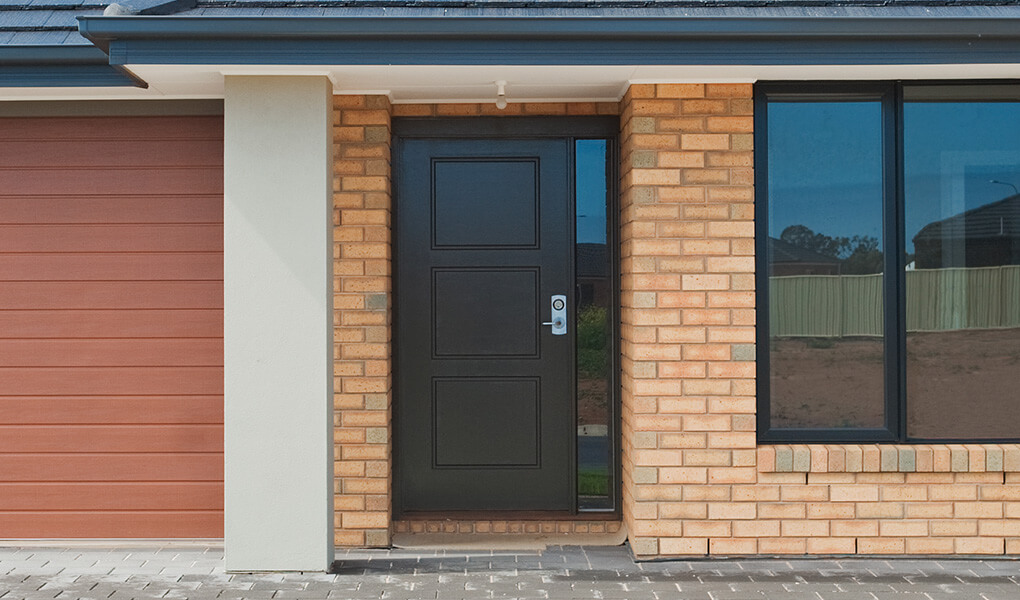 Black is a sophisticated shade that lends itself extremely well to contemporary designs. This example of a modern black front door is built from aluminium, which is an excellent material for creating modern door designs.
8. Modern white front door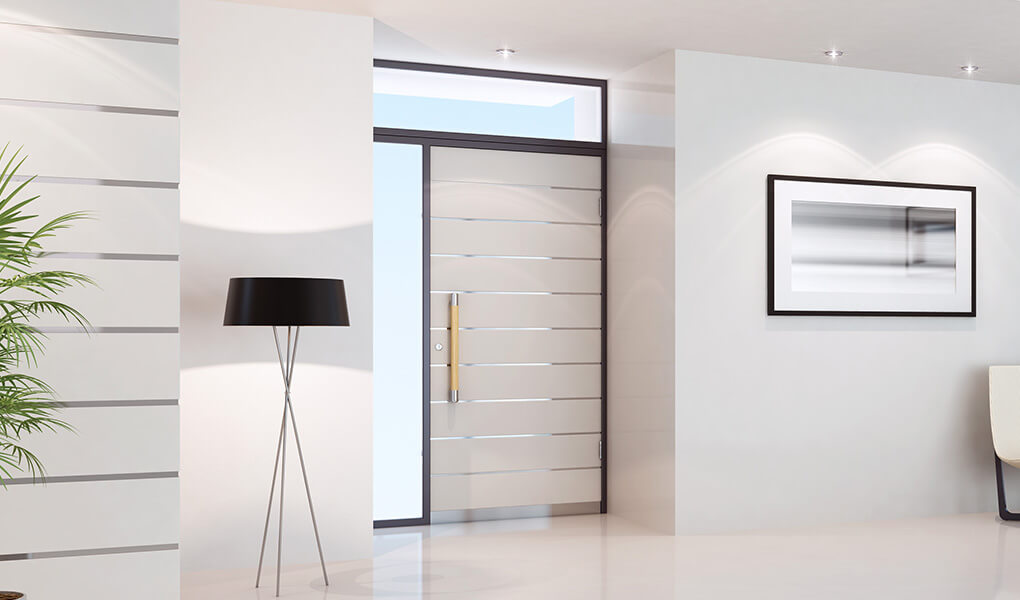 The colour white is essentially a blank canvas, meaning a modern white front door can blend in with any contemporary surroundings and look great whilst doing so.
Find a new front door in our bespoke collection today!
5 Tips for choosing a front door:
Choose the style: classic or contemporary
Pick the colour/finish: smooth or textured, bold or subtle.
Choose the furniture: handles, letterplates, door knockers, etc.
Get in touch with T&K, one of the leading installers of front doors in Northamptonshire.
Here at T&K, we install a wide selection of front doors in all the popular door materials and in a huge range of styles. We also offer smooth and woodgrain finishes along with any RAL colour, so you can achieve an almost endless variety of distinctive door designs.
For more information or for a free quote, give us a call on 0800 622 716 or contact us online.