How can you get the most out of your conservatory lighting?
Here are some conservatory lighting ideas
When it comes to conservatory interior ideas, one of the most important factors is the lighting. Artificial lighting plays an important role determining how a conservatory functions, once the sun goes down. But with several types of conservatory lighting ideas to choose from, it's important to know more about their respective features. So to help you get the most out of your conservatory's lighting, we've looked at what's good and bad about a range of conservatory lighting ideas.
We've also created a video on conservatory lighting ideas, which you can access via the link here.
Recessed spotlights
These types of lights are set back into the wall or ceiling from which they are fixed, leading to a number of distinctive advantages and disadvantages:
Pros
If you're in the planning stage of your conservatory, integrated spotlights can be incorporated into your existing conservatory plan. Get in touch with the team at T&K to learn more.
As they're integrated into the wall, they're good space savers, making them ideal for small environments.
These are usually fitted with LED lights, which are renowned for their energy efficiency and longevity.
Cons
Spotlights tend to have a narrow stream of light, meaning if one spotlight should go, a significant portion of your conservatory may be unlit.
Unable to be fitted onto glazed portions. However, T&K offers solid roof replacements, which can incorporate them.
Replacing bulbs in recessed spotlights integrated into high ceilings is risky, as you'll be working at height.
Recessed spotlights are unable to be moved once they're fitted. This may interfere with future changes to the layout of the conservatory.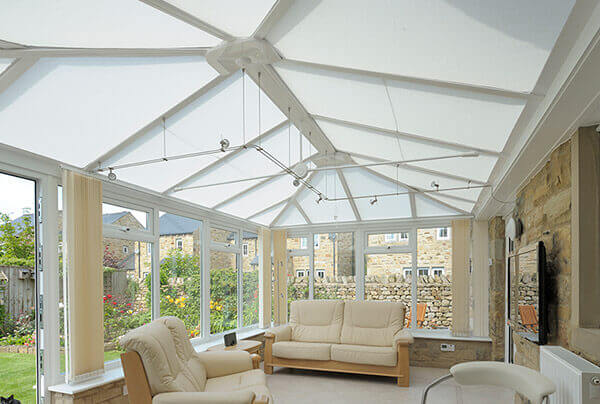 Wire conservatory lighting
Wire lighting is usually characterised by a number of small spotlights that are attached to a wire hanging from the ceiling.
Pros
Like other spotlights, they allow you to accentuate particular furnishings.
Adjustable spotlights are available, meaning you can highlight a beautiful decoration, regardless of where it's placed.
Wire lighting is ideal for placement on uneven ceilings, meaning they're fantastic for conservatories with glazed roofs.
Cons
With several lights to account for, there's more bulbs to worry about. And if one bulb goes, the ambience you've set out to achieve may be affected in some way.
The lights in use tend to project light in narrow spreads. Therefore, larger spaces will require additional lighting to illuminate completely.
Speak to one of our experts today to get an idea on which is best for your conservatory!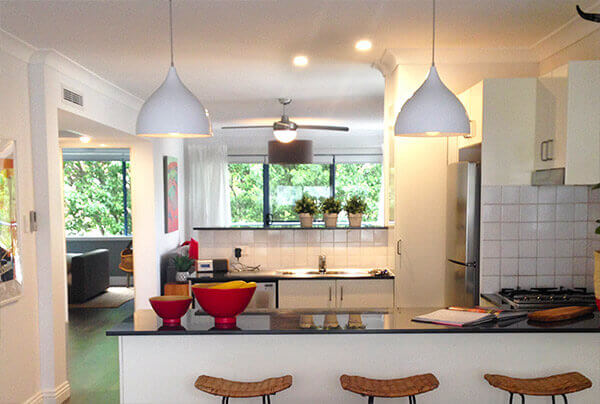 Pendant conservatory ceiling lights
Pendant lights tend to hang down from the ceiling on a long wire, in groups of two or more lights.
Pros
Good for creating a stylish focal point. This makes them ideal for use above a table, or for a kitchen conservatory, above an island.
Many are adjustable in height, allowing them to be retracted so views are less inhibited – perfect for use during mealtimes.
Lighting is less concentrated than with spotlights, meaning they're easier on the eyes. This is ideal for use in a relaxing dining room conservatory setting.
Cons
Installation can be quite complex, regularly requiring a professional to fit them.
They tend to require attachment to solid areas of ceilings, meaning they're unsuitable for many glazed roof conservatories.
Floor & table lamps
No guide on conservatory lighting ideas would be complete without covering floor and table lamps. So, here's a short list of their pros and cons:
Pros
Available in an extensive range of styles, there's floor and table lamps available to suit almost any type of interior theme.
Both are very good at creating low-level lighting, which helps evoke a relaxing ambience – ideal for living room areas.
There are variations of floor lamps which are suitable for both internal and exterior use, a major benefit over any fixed lighting. You can find one using the link here.
As neither require attaching to a ceiling or wall, they're ideal for use in conservatories with glazed roofs.
Cons
A major drawback of both lamps is the additional space they take up. This is particularly problematic in a conservatory where space is limited.
Both options aren't practical for use in kitchen areas. Table lamps will take up valuable counter space, whilst floor lamps may block areas of the floor where an appliance or bin could sit.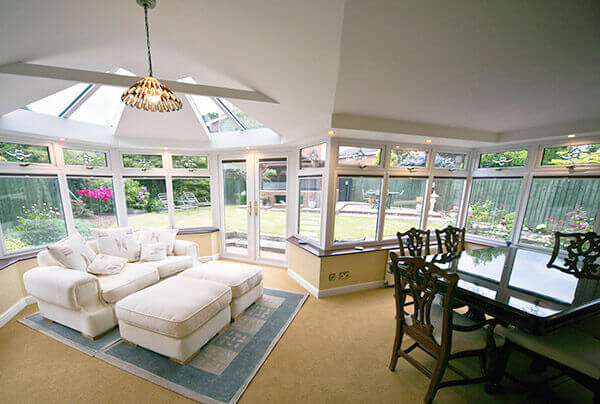 Conservatory ceiling lights (conservatory fan light)
As these are regular found in conservatory settings, it's important a list of their respective advantages and disadvantages are covered.
Pros
You can find ceiling lights that are adjustable in height.
They're a part of a ceiling fan, which hangs down from the ceiling. Ceiling fans help cool conservatories – a very useful benefit during sunny days.
Ceiling lights can be used with a dimmer switch, allowing you to adjust the mood present in the conservatory.
Cons
Ceiling lights tend to have a wider diffusion of light, meaning they're not particularly good for accentuating distinctive features of a conservatory.
Large variants will restrict views of the night sky, which is a problem for any who enjoy stargazing through their conservatory roof.
Ceiling lights are usually placed centrally in a conservatory to allow for an even spread of light. However, as they can't be fitted directly onto glazing, placing them centrally on lean-to conservatories with glazed roofs will be extremely difficult.
We can advise on the best conservatory lighting for you – just get in contact with us today. 
Wall lamps for conservatories (conservatory wall lights)
Available in a range of types, including sconces, wall lamps have their own distinctive characteristics.
Pros
Similarly to spotlights, wall lamps can be used to highlight specific features.
Wall lamps can be quite subtle, in both their design and the amount of light given out, which is perfect for those looking to achieve a minimalistic theme.
They're available in a tremendous number of styles, ranging from rustic to retro to contemporary.
Cons
The levels of light given out are quite low, meaning large conservatories will need several of them to achieve an even light coverage. Conversely, one or two ceiling lights should completely light up most conservatories.
Wall lamps are unable to be fixed to glazing. However, orangeries have large portions of solid wall, which they can be fitted onto.
Conservatory Chandeliers
Despite being heavily rooted in tradition, chandeliers are available in both modern and traditional styles.
Pros
They look incredibly lavish, adding a touch of elegance wherever they're placed.
If using your conservatory as a dining room, placing one above the dining room table will create a beautiful focal point. Although, they're use as a stunning centrepiece is not solely limited to dining rooms – living room conservatories are perfect for them too.
Traditionally large in size, you can find variations suitable for smaller conservatories.
Cons
Their complex designs will make them almost certainly more difficult to clean than pendant, wire or ceiling lights. This will cause particular difficulty in a kitchen conservatory, where moisture and grease from cooking will make its way onto the chandelier.
Their complex design often means they're pricey and difficult to install.
For glazed roofs, a large chandelier will almost certainly hamper views of the night sky.
Low-level lighting for conservatories
If you're particularly keen on stargazing or enjoy external views, it's important to consider low level or dimmed lighting. Otherwise, glare will reflect off the windows, inhibiting your gaze. Wall lamps, table lamps and pendant lights have plenty of options available with low levels of brightness. Alternatively, you can ensure that light in your conservatory is projected downwards. Ceiling lights, spotlights and floor lamps are three downlight conservatory lighting solutions.
We can advise on the best option for you – just speak to one of our conservatory designers today. 
Solid roof conservatory lighting
Solid roofs don't tend to feature glazing panes, so inside they appear like a normal ceiling in your home. So conservatory lighting in a solid roof extension is even more important to brighten the room. As well as the above-mentioned conservatory lighting ideas, we also recommend using light interior decor. Use bright colours on the walls, floor, furnishings and ceilings to reflect the light, as well as having large mirrors and minimal clutter.
How to install lights in a conservatory
The best way to install new lighting to your glass extension depends on the type of lighting. Most lighting solutions will come with instructions that are simple to follow for an easy solution. However, some lighting ideas may require the expertise of an electrician.
For new conservatory installations, our team will take care of any lighting installations. So you won't need to worry about how to install lights in your conservatory.
Related conservatory blog posts from T&K:
Conservatory lighting solutions – we're the experts
The right conservatory lighting option for you will, ultimately, depend on the way you use your conservatory. However, as conservatory design specialists, T&K can advise you on the best conservatory lighting solution for your proposed conservatory, orangery or garden room.
Take a look below at the table to get an idea on the best conservatory lighting solution for your home. There are so many factors to consider, it may be worth getting in touch with the team today. One of our conservatory installation specialists can advise on the best conservatory lighting solution for your specific requirements. You can call us on 0800 622 716 or send us an online message.