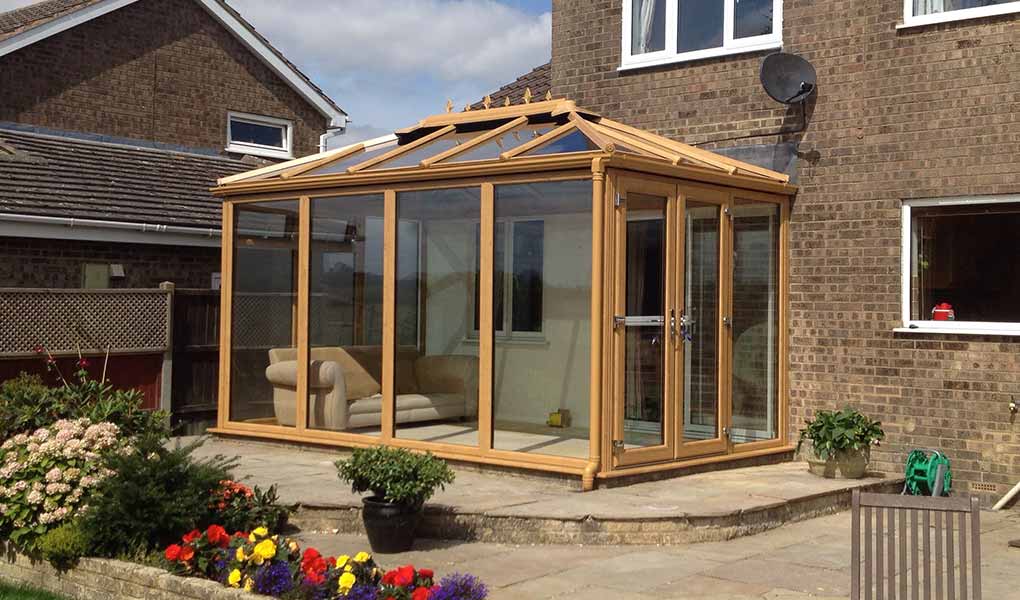 If you're looking to replace your conservatory's roof or you are considering a new conservatory for your home, you've no doubt wondered what is the best conservatory roof system.
What is the best conservatory roof?
There are three main conservatory roof options; polycarbonate, glass and tiled roofs. Polycarbonate roofs used to be popular with homeowners, however recent advancement in glazing technologies far outperform polycarbonate roofs.
At T&K we don't offer polycarbonate roofs because of their poor performances.  Glass roofs are excellent at insulating a conservatory, as well as letting in plenty of natural light for a bright and airy atmosphere. Tiled roofs will make your glass extension appear like a full home extension, and with a range of slate designs, they'll seamlessly blend with your existing roof. They excel in their insulation and durability performances too.
The key factors which influence the best conservatory roof system for your home include:
The conservatory style
The size of the conservatory
Your budget
What is the best insulation for conservatory roofs?
Insulation wise, polycarbonate roofs perform the worst, especially old ones. Glass conservatory roofs insulate far more effectively than polycarbonate, plus low-emissivity glass is available nowadays, which traps even more heat inside the structure. However, tiled roofs are the clear winner in this category. For instance, the Supalite plus roof features U-Values of just 0.13 W/m2k, which are the lowest U-Values of any conservatory roof system currently available. Therefore, if you're looking for a warm conservatory and lower energy bills, tiled roofs are the best solution.
Replacement conservatory roof costs
The price to replace a conservatory roof depends on a variety of factors including:
The type of roof: Glass roofs tend to cost marginally less than tiled ones because the job requires less labour. Also, if the conservatory structure needs reinforcing to accommodate a tiled roof, this will need to be accounted for.
Conservatory style: the conservatory roof for a lean-to conservatory tends to cost slightly less than on a Victorian conservatory, for example, even if they're the same size.
Size of the conservatory: A bigger roof means more materials and more labour are required, therefore a higher cost is incurred.
Contact us for expert advice on replacement conservatory roofs!
At T&K, we're currently offering discounts on our conservatory roofs for both replacement projects and new conservatory installations, so there's no better time than today to begin your home improvements project.
What weight roof can a conservatory take?
The roof weight that a conservatory can support will depend on the condition of the existing structure. If the structure is in good condition, most existing conservatories should be able to support glass and lightweight conservatory roofs. However, if a structure requires reinforcing, Supalite tiled roofs come with structural wind posts. These take the weight of the roof away from the structure to the foundations. However, if replacing a glass or polycarbonate roof with a solid/tiled roof, you will need to comply with Building Regulations.
For new conservatories, the roof will be decided upon prior to any building work taking place. The foundations will then be dug to accommodate the weight of the chosen roof and so will the structure.
How long does a conservatory roof system last?
This will depend on the material it's built from, however glass and polycarbonate roofs should be able to last for more than twenty years. Although, if properly maintained, either can last longer.
In comparison, solid roofs are expected to last for 50 years, however they could last more. They also require virtually no upkeep to last for this length of time. Supalite roofs are available with slate tiles, which are expected to last twice as long as cement roof tiles.
T&K Home Improvements – we're expert conservatory installers
Whether it's a new conservatory or a replacement conservatory roof you're after, T&K Home Improvements can help. We've got over 40 years' conservatory installation experience and provide both glass and tiled roofing systems.
For more information, call 0800 622 716 for free or contact us online.
Related conservatory roof blogs by T&K