Which Are Better Glass Conservatory Roofs or Tiled Conservatory Roofs?
Tiled Vs Glass Roofs:
Making the decision to choose a new roof for your new house extension can be a daunting task. With all the options out there on the market, it can feel overwhelming to know which is the best option for your home. With that in mind, we thought a short comparison of the two different products may help you define your search for the perfect option.
The Benefits of Glass Conservatory Roofs
Glass conservatory roofs can offer your home stunning levels of light transmission thanks to their slim sightlines. You can enjoy unobstructed views of the exterior of your home as well as enjoy the stunning modern profile of our roof designs.
Glass conservatory roofs can be a fantastic addition to both modern and heritage properties as they can create a sense of grandeur and modernism without compromising on the existing character of your home. Fully customisable, our glass conservatory roofs come with a host of glazing options to meet any design preference and can increase the performance of your home. There are options for self-cleaning glazing and glazing which provides better thermal insulation to your home.
Technology has moved on considerably and now there are options for a glazing in the roof to have solar controlled, self-cleaning and thermal efficiency properties, meaning a new glass roof can be used all-year-round with considerably lower maintenance required.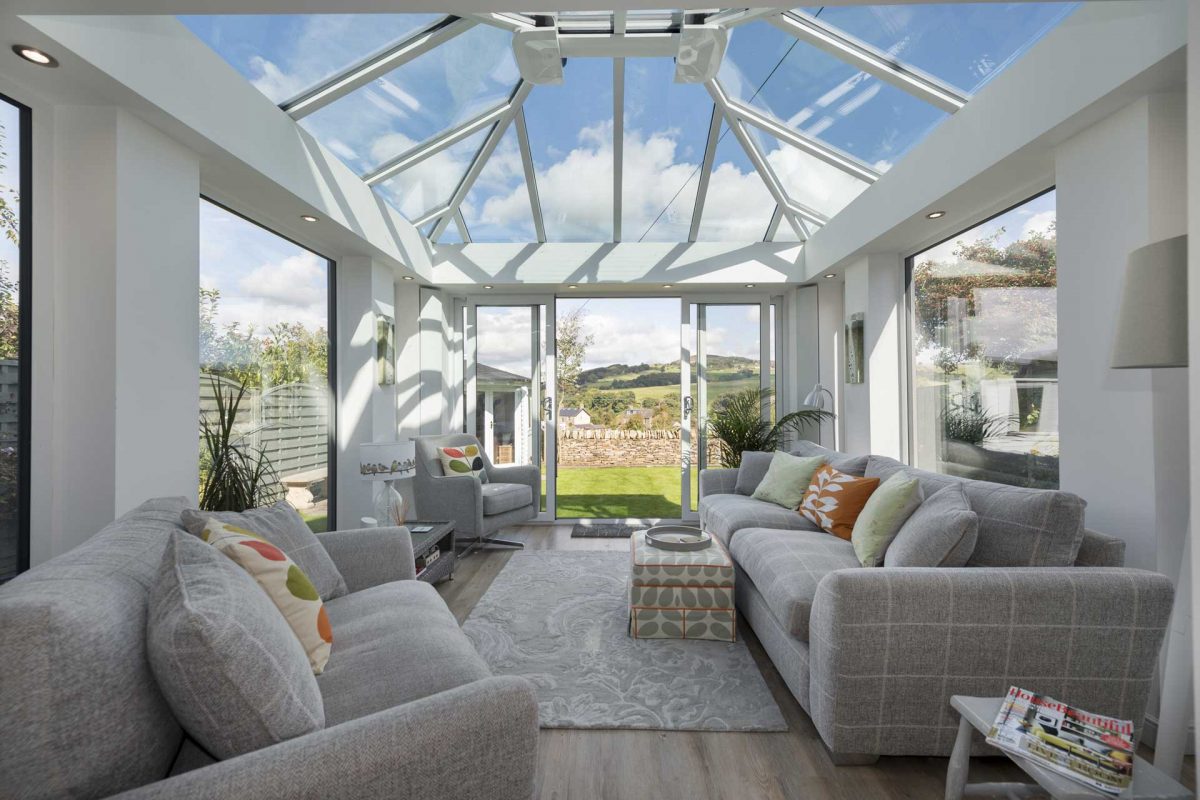 With energy prices rising by 54% this month (April 2022) now is the perfect time to invest in energy-efficient home improvement solutions and glass conservatory roofs are an ideal solution to this. With modern glazing options and proper inbuilt ventilation systems, the glass conservatory roofs of today can provide you with year-round thermal regulation. Gone are the conservatories of old which became oven-hot in the summer and bitter cold in the winter months.
How do Tiled Conservatory Roofs Compare?
Meanwhile, tiled roofs are ideal for those who want their extension to emulate the existing style of their property. Many traditional roofing styles used in homes can be mirrored with our extensive colour options and their interiors can create a sense that this is a natural extension of your home.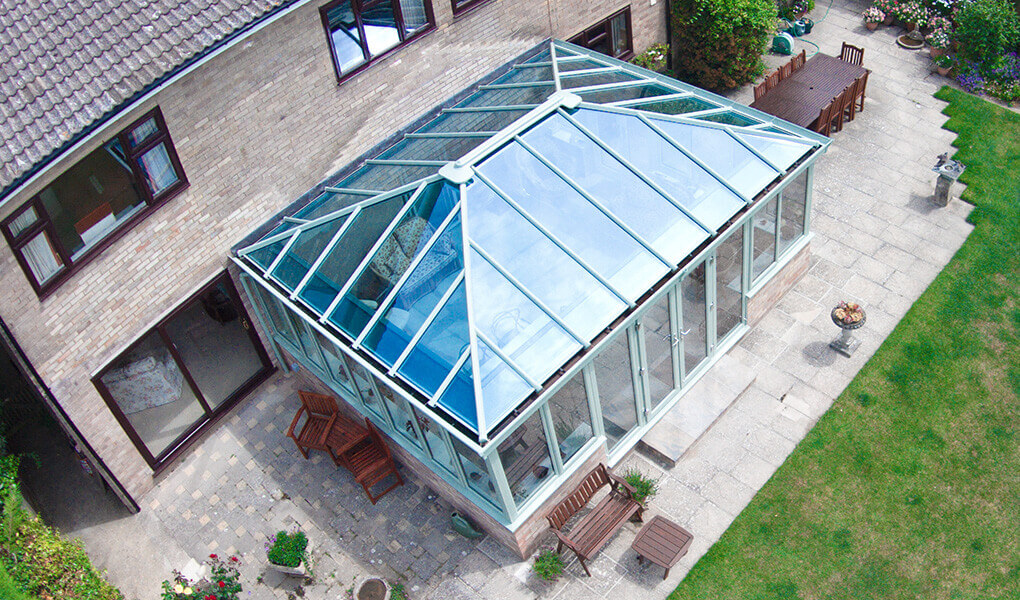 Unlike glass conservatory roofs, tiled roofs can allow for an additional level of privacy at the cost of less natural light transmission. For some, it is essential that their house extension maintain a consistent aesthetic with their existing home, if this describes you a tiled conservatory roof may be your best choice.
Tiled roofs can also boast excellent thermal efficiency in much the same way as their glass counterparts. Our tiled conservatory roofs offer U-values as low as 0.13W/m2K helping you save on your energy bill and keep your home at a comfortable temperature 365 days a year.
What do they have in common?
Although we can only speak for our own high-quality products, many modern conservatory roof options are weather resistant. Our own range has been rigorously weather tested to withstand snow loads of 2.7m and wind speeds as high as 155mph.
Furthermore, with advances in glazing techniques such as acoustic glass you can have peace of mind your home can benefit from noise reduction, whether that be for added privacy or to block out nearby distractions, you can rest well in peace and quiet.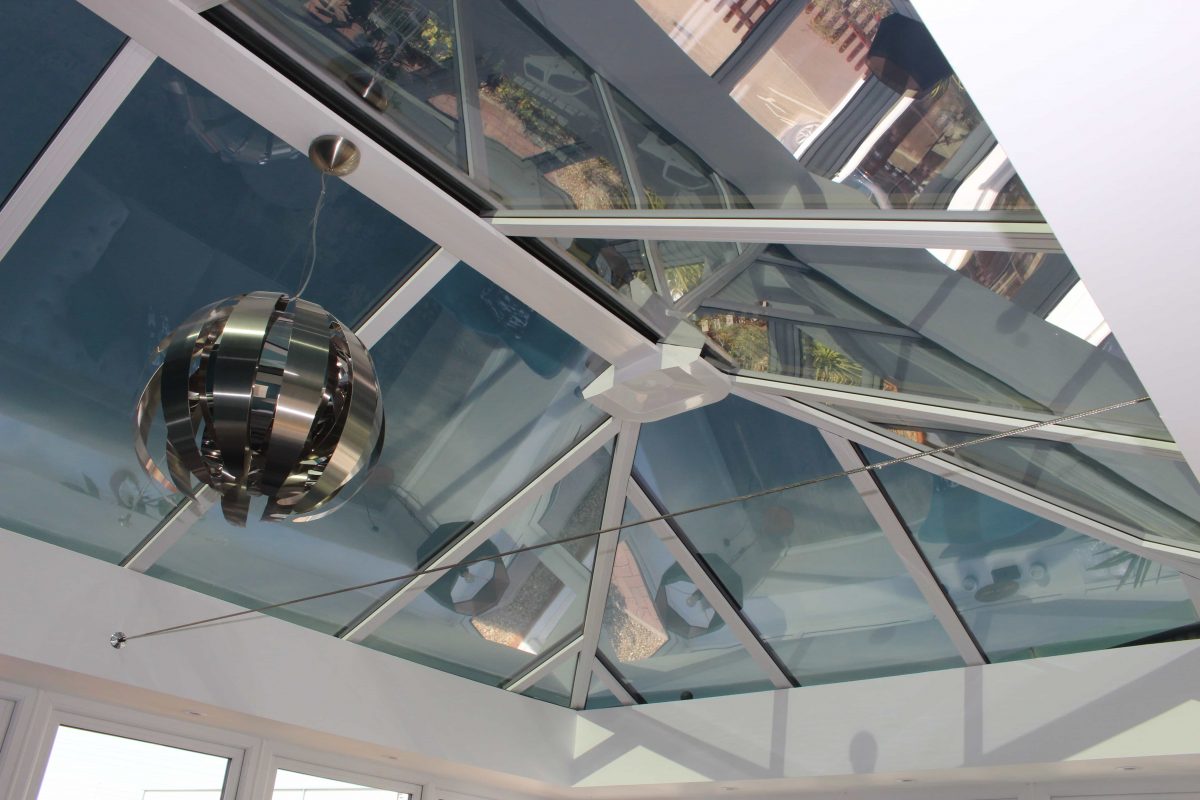 Whether you are still weighing up the pros and cons of each style of conservatory roof or whether we've helped you reach a decision and you're ready to enquire, why not discuss your roofing project with a professional? Our team are on hand to answer any questions you may have about our roofing range. You can reach us via our online contact form. If you would prefer to discuss your project with someone over the phone you can alternatively call us on 08800622716. Finally, if you want to learn more about our prices you can enquire via our online quoting tool and receive a personalised quote within moments.