What do the latest government regulations mean for your home's windows?
What's changed?
Earlier this year (25th February 2022) the government released new building regulations around ventilation requirements for UK properties. This outlined that all rooms with external walls should have background ventilators (such as trickle vents) and that a window with a night latch position is no longer suitable for background ventilation.
Why? It has been identified that night latches increase the risk of draughts and even perhaps more seriously produce numerous security risks to your home. It has been well reported that break-ins and burglary attempts are more frequent in the warmer months as many people leave their windows partially open at night (on latch) in order to keep cool.
In short, many windows which do not feature some other in-built means of ventilation, such as a trickle vent, no longer meet building regulations and may not be as secure as they could be.
What is a trickle vent & what can it do for your home?
Trickle vents are small slots in a window or door which allow for small amounts of ventilation through the portal even when closed and allow polluted air out. You can normally find them to fit the window frame itself or sometimes they are embedded between the glazing and frame.
Trickle vents can be opened and closed manually so you can adjust them based on your ventilation requirements. They are designed to prevent issues that can stem from poor ventilation such as a build-up of condensation, mould and discomfort associated with high temperatures.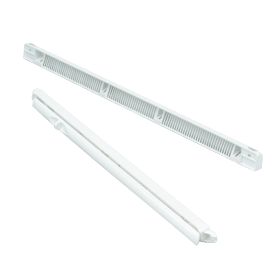 Trickle Vents also mean that your home can always be well ventilated even when you are away from home. It is simply the case to open the vents before you leave for the day and your home can remain well ventilated throughout the day without compromising your property's security.
What does this mean for your home?
Well for your existing windows this may be helpful to see how a new set of windows, featuring in-built trickle vents, can improve the security and performance of your home.
For those looking to purchase new windows, you are in luck. Fortunately, we here at T&K have ensured all our windows will have trickle vents installed. This means your new windows will not only be conforming to the latest building regulations for your peace of mind but will also help keep your home secure.
You will also be able to benefit from a well-ventilated home which coupled with our bespoke double glazing profiles will mean your home is thermally regulated year-round regardless of outside temperatures.
If you are interested to learn more about trickle vents or which to purchase some new windows for your home, our team would love to hear from you. Our team of friendly professionals are on hand to answer any question you may have about our range. You can reach out via our online contact form or give us a call on 0800 622 716. If you simply want to see how much our windows cost and take advantage of our sale you can receive a quote within moments via our online quoting tool.