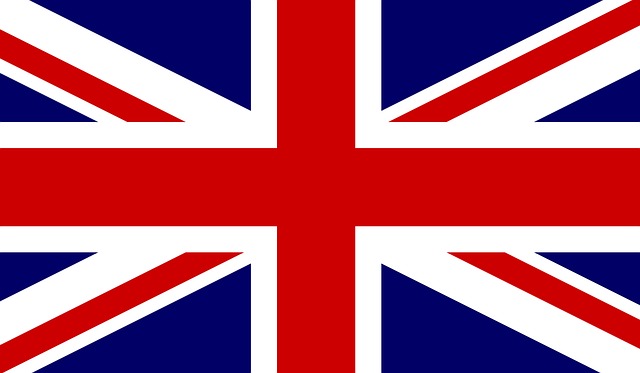 The top British surnames (and their interesting heritages!)
Surnames are an interesting thing; everyone's got one but most of us have absolutely no idea why or where it came from. Well, English surnames were actually introduced by the Normans after their conquest in 1066. The practice then spread to other parts of Britain. The origins of some of these British last names are also pretty fascinating, to say the least. So, for anyone who's been searching for 'good surnames', here are some of the most popular surnames in the UK that we felt were worth mentioning.
1. Brown
The 6th most popular surname in Britain, there are 195,410 people with the surname Brown in the UK. A lot of UK surnames originated from nicknames or descriptive names and that's exactly where this one comes from; the name 'Brown' was originally an English and Scottish nickname for someone with brown hair or brown complexion.
123,667 in the UK also have the surname White, which is another common example of this type of surname. White was originally a nickname for people with fair hair or pale complexion.
2. Johnson
In the UK, 151,518 people have the surname Johnson. It is a fine example of a surname that was obtained from the name of a parent, which was a highly common practice with British surnames. So what would have originally been John's son, eventually became Johnson or, in many cases, Jones. T&K was founded by a Johnson (Kevin) back in 1979 and we've been improving people's homes with our windows, doors and conservatory products ever since.
3. Jones
The most common of the Welsh surnames and the second most common in the UK (422,023 people have it), Jones appears to have multiple origins; the first as a patronymic name meaning 'son of John; the second as an English and Welsh variant of the Middle English personal name Jon. The surname only became widespread during the 18th and 19th centuries.
It's also worth noting that Davidson and Davids (derived from David's son) are other examples of a name obtained from parents. However, dropping to Davids or Jones instead of Davidson or Johnson is a more common pattern with Welsh last names. For this reason, it is, perhaps, not that surprising that the most common Welsh surname is Jones.
4. Green
114,774 people in the UK have the surname Green, making it the 19th most popular of the British surnames. Its origins stem from a Middle English name for someone who lived by the village green. However, the practice of a surname developing from where a person used to live is not just limited to Green. Other common examples are Wood, the surname of 111,127 UK inhabitants, and Lake.
5. Smith – the most popular surname in the UK
The most common surname in Scotland and the UK as a whole, Smith originated from the Middle English period. 546,960 UK nationals have it. It started out as an occupational name for someone who worked with metal, such as a Blacksmith.
Despite being the most common of the British surnames derived from an occupation, Smith is not the only one. Taylor (taken from the occupational name tailor) is used by 250,780 people in the UK. Wright, which was an English and Scottish occupational name for a craftsman, is also used by 130,416 people.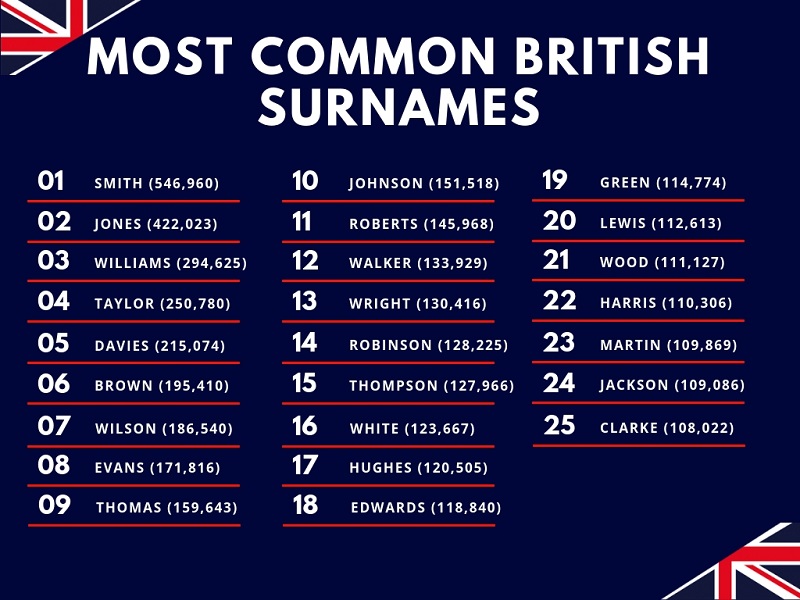 Cool surnames used in Britain
Now we've looked at the more popular last names from the UK, let's take a look at some of the 'cooler' but less popular ones:
Henry is a Germanic surname that comes from the words heim (meaning home) and ric (meaning power or ruler). Introduced to England by the Normans, its initial use was as a personal name. Given to 8 English kings, anyone with the surname Henry is likely to have had powerful ancestors during the Middle Ages.
The surname Armstrong originated in the Scottish borders region, which originally described someone with strong arms. So, if you're an Armstrong with strong arms, it's safe to say you're doing your ancestors proud.
Campbell is a surname with Scottish Gaelic roots and it was to refer to someone with a 'crooked or wry mouth'.
Whether the name Corbyn is derived from Corbon in Calvados or Corbon in Orne, France is unclear. However, it means someone who has 'raven hair'.
Derived from Celtic words that refer to battle, ardent, worthy, or strong, Harvey is, arguably, one of the coolest surnames around. It has English and Scottish origins.
T&K is based in Wellingborough and provides home-improvement solutions to Northamptonshire and the surrounding areas. For more information or to request our services, please give us a free call on 0800 622 716 or contact us online.