It's all very exciting getting a solid replacement conservatory roof, but it can be very confusing too. Whatever you do, don't fall victim to the cheap conservatory  'clad-over cowboys' out there. Just because a roof looks good, it doesn't mean that the quality of the roof is any good.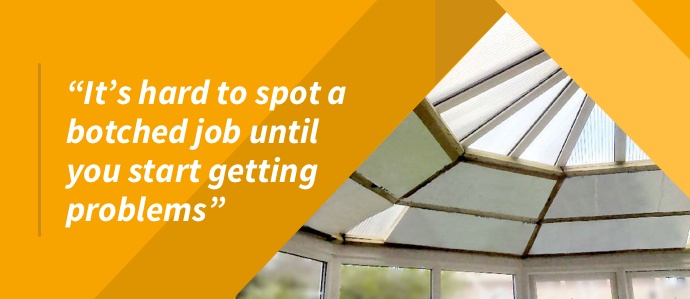 What is a clad-over cheap conservatory roof?
Clad-over roofs are made using timber, tiles, plasterboard and some sort of insulation material. Quite often, a clad-over roof is just placed on top of the original polycarbonate roof, which is a big no-no.
The worrying thing is that the original structure of the conservatory is more than likely not strong enough to hold a solid roof. It's hard to spot a botched job until you start getting problems too. A clad-over roof can look almost as good as a professionally fitted, specifically designed roofing system. The quality of them, however, is far from good.
A cheap conservatory isn't always cheerful…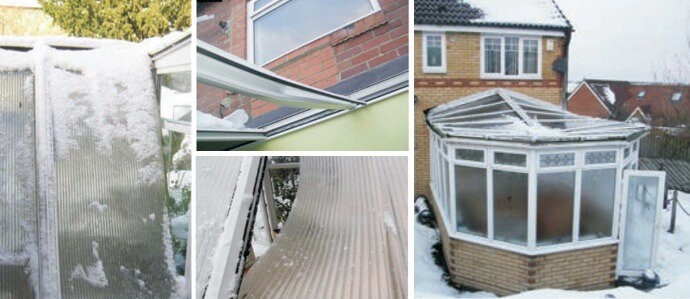 People say that you get what you pay for, and we have to say that's very true when it comes to a replacement tiled conservatory roof. Cheap quotes for a replacement solid conservatory roof aren't necessarily the best quotes. Only ever use an approved installer so that you can be certain the work will be carried out to the highest standard.
Find an approved conservatory roofing installer
Do your research! Some companies claim to sell branded roofs, when actually they're just selling cheap and nasty clad-over roofs. Avoid unaffiliated installers and think about the money you'll save in the long run if you get a quality replacement conservatory roof fitted in the first place. A clad-over roof might seem like the bargain of the century at first, but it will cost a lot more over time. Remember – you buy cheap, you buy twice!
We here at T&K are approved Supalite Solid Roof installers, so if you're interested in a new solid roof on your conservatory then contact us for a free, no-obligation quote.