What Is The Difference Between A Conservatory & An Orangery?
As conservatories and orangeries are both a type of glazed extension, it's very easy to mistake one for the other. Traditionally, the two have several differences, however, including:
The amount of brickwork: traditional conservatories have a structure that is mostly glazed with minimal amounts of brickwork. Whereas, the structure of orangeries is largely made up of brickwork.
The roof: conservatory roofs used to be fully glazed, however, orangeries were fitted with lantern roofs. These come with an internal pelmet ceiling, which is often fitted with recessed spotlights and, sometimes, speakers.
As traditional conservatories have significantly more glazing, they allow in more natural light than traditional orangeries. However, a traditionally styled orangery offers more privacy.


Nowadays, however, the lines between the two types of extension have blurred; each of them can now incorporate features traditionally associated with the other structure. For example, conservatories are now available with tiled roofs. Like the lantern roofs that are traditionally fitted upon orangeries, these feature an internal ceiling. This gives a conservatory a feel more similar to an extension than a sunroom.
Is A Conservatory Or Orangery Right For My Home?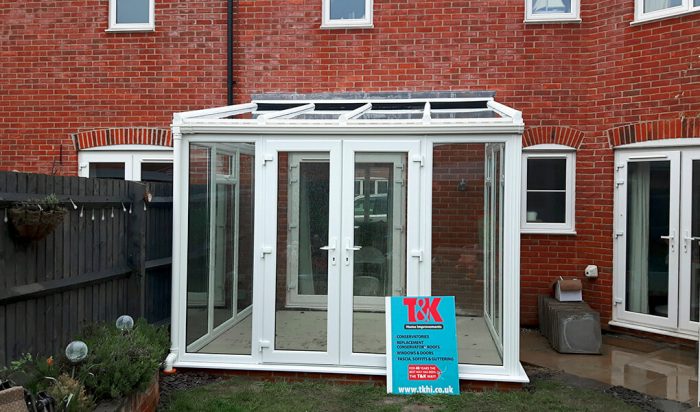 Now you know the traditional differences between the two, the next thing to consider is which is right for your home. Well, this will depend on your individual needs. As just mentioned, it's possible to incorporate design elements from either structure so you might find a hybrid of the two is what you're looking for.
However, if you're looking for a traditional sunroom, for example, you might consider a lean-to conservatory with a glass roof. On the other hand, many consider orangeries to have a more luxurious feel to them. So, if a feeling of grandeur is particularly important to you, an orangery might better suit your needs.
If buying a conservatory or orangery from T&K, our design team will work with you to establish which elements you'd like your new extension to have. Regardless of what you desire, you'll be getting a comfortable, secure and versatile living space that can be used for a variety of purposes.
Do Conservatories & Orangeries Require Planning Permission?
In most cases, either structure can be built without the need to acquire planning permission. This is subject to a number of limitations, however. Use our useful planning permission for conservatories guide for detailed guidance on the limitations that are in place.
Conservatories And Orangies Installed Bespoke To Homes Across Northamptonshire
T&K is one of the leading installers of conservatories and orangeries that operate around the Northampton area. Choose from glass, solid and lantern roofs, a variety of conservatory styles, aluminium bi-fold doors, and much more when looking to buy a conservatory or orangery from us. For more information or for a free, no-obligation quote, give us a call on 0800622716 or contact us online.