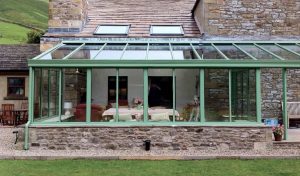 If you're looking to add some extra space to your bungalow, a conservatory can be the ideal solution. Available in a range of stylish designs, the right option for you may depend on a variety of factors. As conservatory installation specialists, T&K understands what kind of considerations homeowners take into account. So to give you an idea of what's available to you, we've created this post.
We've also created a video too, which you can view via the link here.
What are the conservatory design options available to me?
Lean to conservatories
Victorian conservatories
Edwardian & double hipped conservatories
P shaped conservatories
Gable end conservatories
Lean to conservatories for bungalows
Lean to conservatories feature a low pitched roof, which complements the small eaves on bungalows. They're ideal for bungalows as the low pitched roof can meet your property's height restrictions, unlike other conservatory styles which are not always as compatible with bungalows. It can be adapted to fit awkward spaces, whilst its symmetrical shape makes it an ideal fit on contemporarily styled properties.
It tends to be the most cost-effective conservatory-style due to its simple design, meaning a lean-to conservatory can suit any bungalow owner's budget. The simple design of a lean to conservatory offers a variety of customisation options that will easily suit any type of bungalow.
Speak to one of our conservatory design experts today to see which is best for your home. 
Victorian conservatories
These are distinctively traditional in appearance, however they fit nicely onto properties of any period. Victorian conservatories feature a faceted end, hipped roof, a geometric roof design and are octagonal in shape.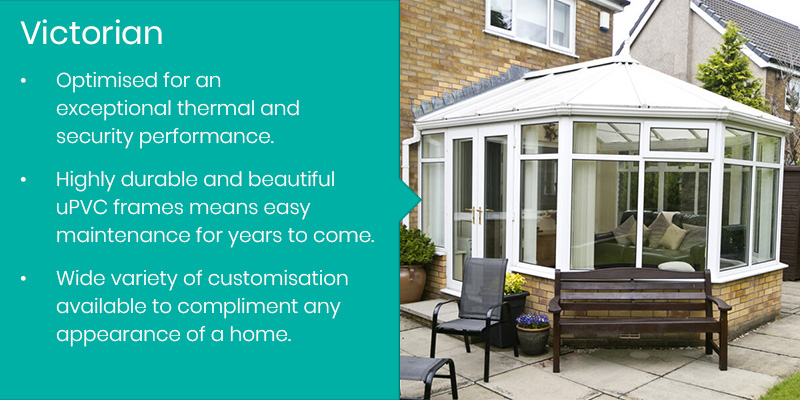 Edwardian & double hipped conservatories
Edwardian conservatories and double hipped conservatories are square or rectangular in shape, so tend to match the shape of most bungalows. They also provide lots of floor space for you to do with as you please. Both feature a hipped roof, which offers more headroom than the roof on lean to conservatories.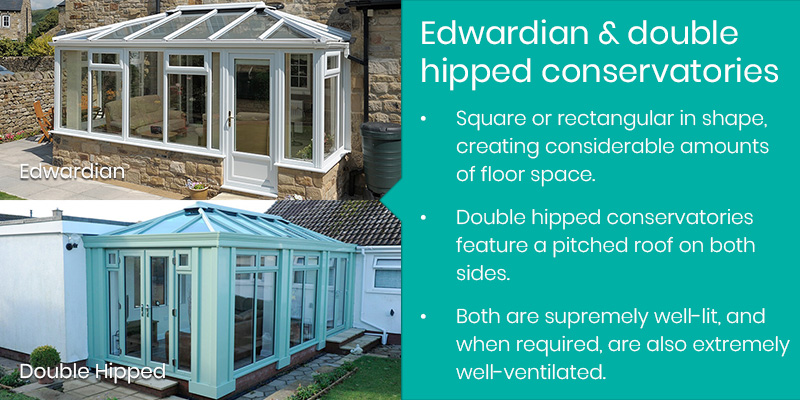 P shaped conservatories
P shaped conservatories are a combination of two distinctive conservatory styles to create a 'P' shape. Lean to and either Victorian or Edwardian conservatory styles are regularly combined with P shaped conservatories. Due to their large size, they can be great for those who are looking to dramatically expand their living space.
Gable end conservatories for bungalows
If your bungalow features a gable end, a conservatory can be built which utilises the extra height that's on offer. It will still be able to comply with the relevant planning permissions, provided the height of the conservatory doesn't exceed the highest part of the roof.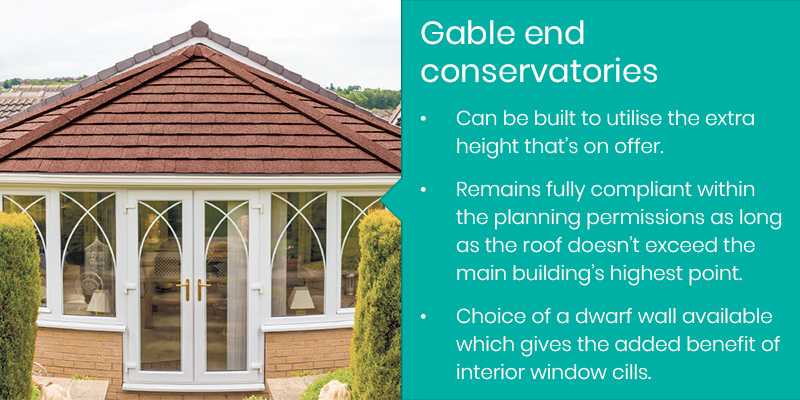 Regardless of the chosen style, conservatories for bungalows are available with full-length panels of glazing or a dwarf wall. This is a short brick wall, which can be matched to your property's current brickwork. Alternatively, a range of stone and brick options are available to choose from. Dwarf walls provide the added benefit of interior window cills, which can be used to house a range of decorations.
Is a gable end conservatory the best for you? Speak to us today and we'll let you know!
Putting a conservatory on a bungalow
Why would you like to get a conservatory installed to your bungalow? Do you want to increase your living space, bridge the gap between your home and garden, maximise the amount of light coming into your home or something else? If you have an idea of what you'd like the conservatory for, a conservatory specialist like T&K can work with you to create a design that best suits your wishes.  A conservatory installation is an easy project, and our dedicated team will work with you from start to finish for a solution that perfectly meets your individual requirements and adds value to your bungalow.
Conservatory ideas for bungalows
The ideal design of your new conservatory ultimately depends on your personal preferences and the appearance of your existing home.
Our range of bespoke conservatory styles for bungalows caters to every type of home. With a variety of material, styles, shapes and colour choices, we can install the perfect conservatory for your bungalow. From charming Chartwell green, classic white or contemporary grey, the options are endless! We'll advise on the best roofing option, and accompanying windows and doors to ensure your conservatory adds the maximum value to your bungalow.
Take a look at our conservatory installation gallery for more inspiration!
What about the roofing options for a bungalow glass extension?
After determining your conservatory style, you may want to consider what type of roof you'd like it to be fitted with. This is because your choice of roofing can affect the way you use the conservatory.
Tiled conservatory roofs
Tiled roofs perform so well in terms of insulation that a conservatory will feel like an extension of your home. This means it'll be suitable for almost any purpose right the year round. They also feature a pelmet ceiling which can be incorporated with speakers and lighting. A portion of glass can be fitted onto a tiled roof, so more light can make its way into the structure too.
T&K installs two variations of tiled roof: the Supalite and Ultraroof tiled roof.
Glass conservatory roofs
The obvious benefit of glass roofs is that they allow the most amount of light into a conservatory. This means if you plan on mostly using your conservatory when the sun is out, a glass roof is ideal. Glass which reflects more heat from the sun away is available, so you can enjoy the sun without overheating too.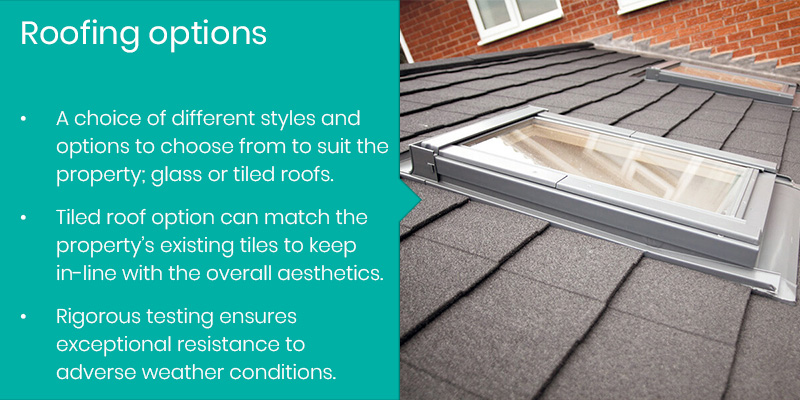 Do conservatories for bungalows require planning permission?
In most cases, planning permission will not be required; you can build a conservatory under permitted development rights as long as it abides by these conditions:
Its height does not exceed the highest part of your bungalow's roof.
It doesn't extend more than 3m beyond the rear wall of attached bungalows or 4m for detached ones.
However, if you live in a conservation area, further restrictions may apply. For further information on planning permission for conservatories, follow the link here.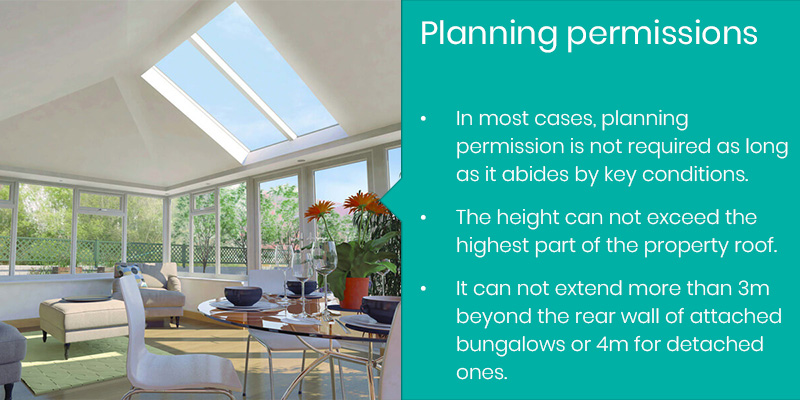 How much will a conservatory for a bungalow cost?
The cost of a conservatory will depend upon a variety of factors, including its size, style and the materials it's built from. Lean to conservatories tend to be the cheapest conservatory style, which is due in part to their single pitched roof. More complex styles, such as Victorian or P shaped, tend to be more expensive.
The choice of roof will affect the price too. Generally, tiled roofs cost more than glass ones, however they perform better in terms of thermal efficiency. This means tiled roof conservatories tend to cost less to heat than those which have glass roofs.
T&K offers a range of finance options, to help spread costs out over a longer period.
Find inspiration for your new conservatory in our installation gallery!
How long do conservatories for bungalows take to build?
As every conservatory is bespoke and constructed to each customer's specifications, construction times will vary. Generally, average size conservatories tend to take between three and four weeks to build. Larger ones can last up to six weeks. If access to the building site is good, disruption to your everyday life whilst construction is ongoing should be minimal.
The benefits of bungalow conservatories
Whilst you'll have a load of extra space to do with you as you please, a bungalow conservatory will provide you with other benefits, such as:
These benefits apply to any conservatory, regardless of your chosen style.
Related to this post: A guide to getting the most out of conservatory lighting
T&K is a conservatory specialist with over 40 years' experience; we've installed hundreds of conservatories for bungalows during that time, so we're the ideal partner for such projects. However, if you're still unsure about which option is right for you, please feel free to get in touch with a member of our friendly team. They'll be more than happy to answer any queries you might have.