Are you having problems with your uPVC door handles?
Or your uPVC door handle won't open?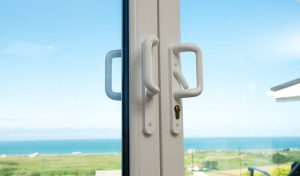 If you happen to be the unlucky owner of a uPVC door that won't open, the problem might lie with the door's handle. However, a broken uPVC door handle can be caused by several different issues. And whilst this list isn't extensive, we've explored a range of common problems and offered solutions that can help to resolve them below.
Help! My uPVC door handle is not working
A faulty door handle is where the door lock isn't working correctly, but not to worry there are several common issues with some simple fixes.
The door screws are too tight
The door locking mechanisms aren't lubricated
The door lock spring mechanisms have failed
We've also created a handy video on broken front doors, which you can access via the link here.
1) uPVC Door screws are too tight
If the screws are too tight, the handle's backplate can pinch the lock, which prevents the spring from working effectively. You can try to rectify this by slightly loosening the screws that hold the handle to the door. This should make the handle easier to turn.
2) The internal springs aren't properly lubricated
In such cases, the internal springs may bind against the inside of the handle, causing difficulty when operating the door. Try removing the handle from the door and operating it while holding the backplate. If the handle does not operate freely, try lubricating with 3 in 1 oil, then leave some time for it to work into the mechanism. This should stop the mechanism from binding. Now you can reattach the handle to the door.
Speak to an expert today about getting a replacement new door!
3) Spring mechanism has failed in the uPVC door
If you find your uPVC door isn't latching shut as it should, there could be a problem with the lock's spring mechanism. You can test if it's failed by removing the latch from the door and pressing it down with your finger. If you find it doesn't fully spring back or springs back very slowly, you will need to replace it.
Replacing broken uPVC door handles
If none of the above methods have worked, your only option may be to replace the handle. If you plan on doing this yourself, it's important that a number of key sizes on the new handle match the old one. You can make sure the handle will be the right fit, by taking the following measurements with a tape measure:
The distance between the two fixing screws, making sure the measurement is taken from the centre of each screw.
Distance between the centre of the handle to the centre of the keyhole.
Overall length of the handle to ensure the area where your old handles were is covered.
Be sure to measure in millimetres, so the measurements are more precise.
We can help, just get in contact with one of our experts today. 
What happens if your door handle still won't open?
If the door knob turns but the door won't open, it's probably because the set screw holding the knob or handle to the rod has become loose. If the bolt moves but doesn't provide enough space to get the door to open, then the door locking mechanism needs additional lubrication, which we explained above.
What to do if my uPVC door won't open?
Other causes of broken uPVC doors and jammed doors can include broken keys, rust and misalignment. If you've expended all your available options, including an attempt to replace yourself, it's time to call in the pros. Give your local locksmith a call; they should be able to resolve any issues with your broken uPVC door handle and get it back to working like normal again.
However, doors that won't open are not always a result of a broken handle; old uPVC doors regularly experience opening problems for a variety of reasons. If so, it might be time for a new one altogether. And if you choose a uPVC door from T&K you can enjoy a 10-year guarantee, meaning you're covered in the event of a broken handle or another hardware issue!
Reasons to replace a broken front door
It can be scary when a front or back door is broken as it can make your home vulnerable to intruders, so it's important to act fast to ensure that your home is protected. If the door lock has become faulty, it's a sign that your front door is becoming old and tired, meaning it's not providing the security and energy efficiency that your home needs. Upgrading your front door is a sure way to keep your family safe and secure, and will also allow you add style and kerb appeal to your home.
uPVC doors that have been around for more than a couple of decades now might begin to see these kinds of problems we've mentioned. However, the absence of these issues isn't the only reason you should consider a new front door to replace your old uPVC one.
1) Impressive front door aesthetics
A newer, more modern uPVC door will always look substantially better than one that is decades old. uPVC isn't the only option though, we also offer aluminium doors, timber doors, and composite doors! Why not try a new look for your property?
2) Improved front door security
Older doors that have begun to break down are a huge security risk, on the other hand, a brand new front door complete with the most modern security standards is sure to give you and your loved ones peace of mind.
Related blog posts from T&K
T&K Home Improvements – expert double glazing installers
Are you a homeowner looking for home-improvement advice or a range of fantastic home-improvement solutions? Get in touch with the team at T&K today. A member of our friendly team is available to call on 0800 622 716 or you can send us an online message.
You can click one of the below images to be taken to the appropriate door range, whether it's aluminium, timber, or composite!