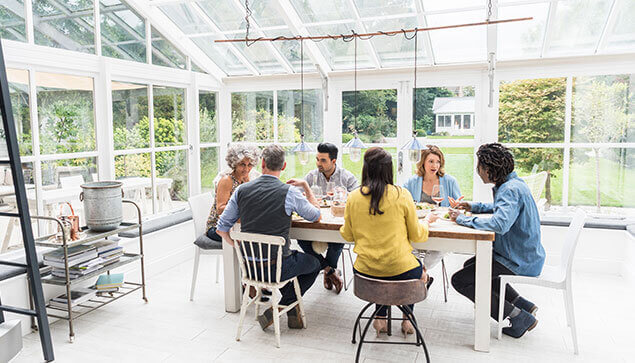 We've just had the hottest May in 100 years. Across the UK, the sunshine and warm temperatures have brought us all outside. Our gardens have been in constant use with the smell of barbecues never far away. The balmy weather looks set to continue throughout the summer so there's plenty of time for more garden parties and outdoor fun.
If you're lucky enough to have a conservatory installed at your home, are you making the most of it this summer season? A conservatory is the perfect space for entertaining guests on a warm summer day. With the patio doors opened wide, it's the ideal area for serving food and taking a break when the sun is at its hottest.
Al-fresco living with your summer conservatory
At T & K Home Improvements, we have installed thousands of conservatories. We know the best ways to get the most out of your extended living area. If you're planning any outdoor entertaining this summer, here are five fun tips to maximise your conservatory's potential while the weather is fine.
Bi-folding doors are an excellent way to create a seamless link between your interior and exterior living space. They can be installed onto an entire wall of your conservatory and effortlessly glide open, neatly folding back to fully open up your home to the great outdoors. Our bi-folding doors are available as a small two section door up to a large six panel door to fit your design requirements. They can be installed between your conservatory and exterior area and also between your conservatory and internal rooms to create a symmetrical feel to your home.
2. Spruce up your conservatory's interior
You'd be surprised how a little can go a long way when it comes to interior decoration. A stylish table and chairs set or a new relaxing sofa will immediately brighten up your conservatory's inside. If you have the available space, you could create two distinct areas in your conservatory. A large table for serving food and drinks on one side, and a comfortable seating area for relaxing and entertaining on the other. When it gets too hot outside or starts to rain, you'll be well prepared with your updated conservatory interior.
If you have a older conservatory with a polycarbonate roof, you may find that it becomes too hot during the summer. Fortunately, at T & K Home Improvements, we have a solution. A solid tiled roof is a great way to make your conservatory feel like an integral part of your home. Our lightweight tiled roof systems are thermally efficient and will help you to create the perfect living space all year round.
4. Tidy up your garden and patio area
A pleasant exterior area is great for entertaining and also a relaxing environment to enjoy at the weekends or after a hard day's work. Make sure any borders are weed free, your lawn is regularly mown, and any exterior woodwork has been recently treated with protective stain. These simple things will create an outdoor area which you can enjoy along with your friends and family.
French doors are the epitome of continental class. They will tastefully complement any style of property. They are an excellent choice of door for your conservatory and can open either inwards or outwards depending on your space limitations. They create a stylish and convenient link between your conservatory and patio area, perfect for garden parties and outdoor events.
If you'd like to find out more about making the most out of your conservatory or you're interested in a brand new conservatory installation, contact T & K Home Improvements today. Call us on 0800 622 716 or send us a message online.