Spending more time inside than ever before has helped many homeowners look at their homes in a different light. For many, remodelling can seem like a messy and costly process that simply doesn't bear thinking about and, before you know it, those tiny, superficial jobs have turned into an insurmountable obstacle that you just don't know where to begin.
Modernising your property doesn't have to break the bank or cause unnecessary disruption, especially with our fantastic finance options available. Done right, a small change can have a bigger impact than you realise. So, get ahead of the game with these 5 cool ways to really modernise your house (inside & out).
Incorporate modern interior design touches
Start by familiarising yourself with the latest interior design trends. Modern tweaks can be as simple as refreshing the walls with a neutral colour scheme, adding natural timbers, or removing carpet and restoring original floorboards. You could also introduce some modern interior design touches. To get you started, we've listed some of our favourite design trends below:

This fusion of Scandinavian Hygge (snug simple pleasures) and Japanese 'wabi-sabi' décor (finding beauty in imperfection) is characterised by neutral tones alongside dark contrasts. Expect a fusion of minimalist clean lines and natural textiles and materials.
Adding warmth, character and a modern edge, rich-coloured interior doors are 'in' at the moment.
The Grandmillenial style seamlessly merges 1920s vintage chic with 2020s minimalism, utilising earthy, saturated colours. Offering eclectic, unforgettable stylings, expect modern features (modern art & clean lined furniture) merged with classic prints, ruffles, pleats, and fringes.
Explore modern entrance door ideas
Updating your front or back door may seem like a trivial alteration, but selecting the right style and finish can revitalise the front of your home whilst vastly improving security and thermal efficiency. Get it right and you could even increase your property value by up to 10%.
Many homeowners across the East Midlands are reaping the benefits of upgrading their old UPVC doors to cutting-edge composite doors. The unique slim frames of aluminium doors effortlessly heighten the modern appearance of any home, whilst ultra-secure steel front doors bring home security bang up-to-date. Traditional homes can also upgrade their property performance by replacing authentic timber doors like-for-like or go one step further with a timber-look door made from practical UPVC, premium aluminium, secure steel, or all-inclusive composite materials.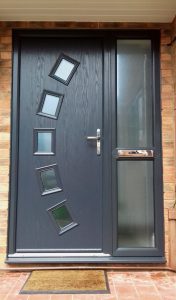 Fashionable modern door colours include:
Anthracite Grey
Very Berry
Misty Grey
Silver Grey
Honey Oak Super-Matt
Military Grey
Chartwell Green
Dark Red
Make sure you explore our recently updated Contemporary Colour Collection and our new Timber Grain colour range for full details.
Invest in a smart home device
Smart home technology is another hassle-free way to modernise your abode. Smart home hubs provide a 'one-stop' solution to unite and control all your gadgets from one app. From programming your morning coffee to robotic floor cleaners, feeding your pets, and even monitoring the cost of your energy – it can all be done from one place.
If safety and security are high on your list of priorities, you could also consider adding smart door locks. Smart locks are operated by your smartphone, or a special key fob, which is connected to the internet. Here at T&K, we fit the industry leading smart locking system; the Kubu Smart Lock. Amongst many intriguing features, Kubu monitors your lock in real-time and notifies you if your door is locked or unlocked from the app. User-friendly, secure, and surprisingly cost-effective, if you want to be sure that your home is secure, get in touch to discuss our Kubu Smart Locks further.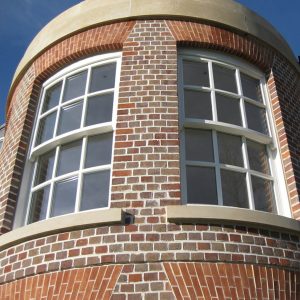 Overhaul your sash windows
If you're lucky enough to own a period property, overhauling your sash windows provides a satisfying way to modernise its appearance as well as its performance. From authentic timber vertical sliders to premium timber-alternative Residence 9 windows and beautifully proportioned UPVC flush sash windows, modernising your sash windows will reduce heating bills and noise and increase security and kerb appeal.
Whether it's rotten timbers, cracked putty, worn sash cords or rattling/draughty frames getting you down, T&K deliver the freedom to restore heritage aesthetics without having to compromise on modern efficiency.
Use glass to create space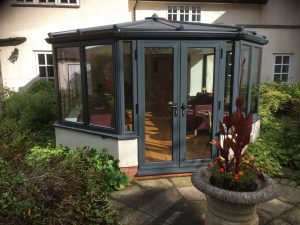 The use of glass has become a staple of modern architecture. Striking the perfect balance between form and function, increasing the number of transparent elements in the home is sure to modernise, enlighten and invigorate the most outdated buildings. Ultra-slim, full height aluminium windows and doors are sure to create a striking modern look, as well as Crittall-style room dividers, glazed extensions, roof lights and roof lanterns. Open plan living is synonymous with modern living, and swathes of gorgeous glazing allows you to create subtle separations without having to go to the effort of literally breaking down walls. A solid investment, increasing your property value between 5-15% is also a possibility with a quality glazed extension.
Modern home improvements for astute Northamptonshire homeowners
For the best modern home improvements in areas like Northampton and Oxford, we invite you to experience the quality for yourself with a visit to our extensive double glazing showroom in Wellingborough, Northampton. Or for more information or a free quote, give us a call on 0800 622 716 or contact us online.
Related posts:
Why now is the time to improve your home with new windows & doors on finance
Make the most of this time to perfectly plan your conservatory