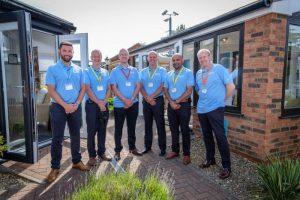 We've been shortlisted for another award!
T&K Home Improvements has been shortlisted for Retail Business of the Year at the 2019 Wellingborough Chamber of Commerce Business Awards.
The awards celebrate commercial excellence in Wellingborough and T&K were able to demonstrate excellence, a pioneering approach to business and a commitment to furthering the prosperity of the borough.
The judges, made up of a panel of executive members of the Chamber, were impressed with T&K's highly rated customer service, commitment to growing skills through apprenticeships and the company's support for the Warwickshire and Northamptonshire Air Ambulance (WNAA) charity throughout the year.
The awards ceremony takes place on Friday, November 29.
T&K – we're expert double glazing installers
T&K has been serving Wellingborough and the county of Northamptonshire for more than 40 years, installing to more than 60,000 homes during that time.
It makes them one of the longest-serving installers in the UK and Neal Harper, General Manager, said: "We are absolutely delighted to be shortlisted for the Retail Business of the Year award at this year's Wellingborough Chamber of Commerce Business Awards.
"We have a long, established history in Wellingborough and as a family-owned business we have always served the district well.
"It's an honour to be nominated and we are looking forward to the awards ceremony."
T&K offers a wide portfolio of market-leading products, including windows, doors, conservatories, replacement conservatory roofs, verandas and orangeries. For more information telephone 01933 677444, email info@tkhi.co.uk or visit www.tkhi.co.uk.