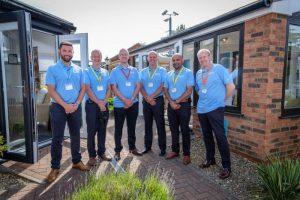 On the 5th of June, T&K Home Improvements held an open day to celebrate its 40th anniversary of trading. With more than 150 customers and representatives from across the home-improvement industry in attendance, many were treated to a unique insight into what has enabled T&K Home Improvements to enjoy such longevity and success.
In-depth examination of high-tech, continually improving facilities
T&K has a sister company called Emplas, who manufacturers T&K's products. The open day began with attendees viewing Emplas' state-of-the-art manufacturing facility, receiving a first-hand view of where £3.5m of investment in the last year alone had gone. Whilst increasing the size of the 50,000 square foot facility by a third, investment also extended to the purchase of several new, high-tech machines. As a result, T&K customers can expect to benefit from quicker turnaround times and further improvements to product quality & levels of service.
Attenders were treated to an in-depth examination of the new SLS Welder, a machine which delivers an almost invisible weld on window sills. The seamless finish on offer with this machinery ensures for a significant boost to the visual appeal of any windows constructed this way, which those purchasing windows from T&K can now enjoy.
This was followed by a view of the two new Schirmer cutting and machining centres. These improve the accuracy of manufacturing processes, meaning T&K customers are now even less likely to receive a defective product. T&K/Emplas is the owner of 2 of the 4 of these present in the whole of the UK. Emplas also has a product quality rating of good or excellent by 98.7% compared to the industry average of 79.2%, which may increase further after the recent developments.
A very positive outlook for the future
After an in-depth exploration of T&K's manufacturing facility, customers were shown around the T&K showroom, taking in an eclectic mix of the companies extensive range of windows, doors & conservatories. Finishing off the open day was a gala dinner at Whittlebury Hall, which was hosted by comedian and comedy writer Paul Kerensa.
Commenting on the event Ryan Johnson, Managing Director of T&K, concluded: "I'm very proud of what we have delivered over the last 40 years. We are also committed to being here for the next 40."
"There are some challenges ahead but the investment we're making allows us to insulate ourselves and also our customers from those challenges, by continuously improving quality, service and efficiency."
"We also remain true to the values on which we were founded. We are a family-run business and that's not going to change. We look forward to working with our customers, existing and new, long into the future."
For more information on T&K, visit the T&K website using the link here. Alternatively, call 0800 622 716 or e-mail info@tkhi.co.uk.